1947 - As Trans-Canada Air Lines (TCA), the company began passenger operations at Shannon in September, 1947, with a regular service to Montreal.
1966 - November 1 - Montreal to Copenhagen and Moscow.
2000 - June 19 - Toronto to Kelowna, British Columbia.
2000 - October 30 - Vancouver to New York (JFK).
---

Found in 'Horizons' magazine
Issue dated December 1999 - January 2000
Pionairs' 1999 - 2001 Executive Board.
The millennium team working for all retirees, left to right: First Vice President Bill Fisher, Treasurer Norm Stoddart, Secretary Barbara Hambleton, Second Vice President Kay Napolitano,
President Saville Hambleton, and Pensions and Benefits Representative Leo Goulet.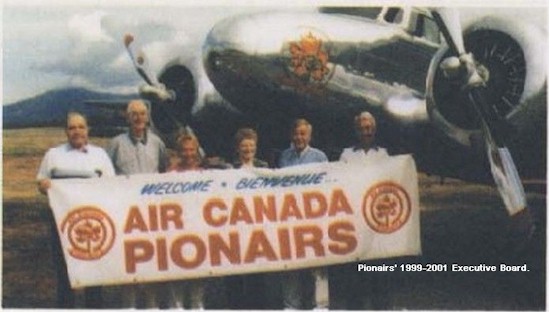 ---
A half century to Barbados.
'Christmas present for Canadians with a yen for distant vacation lands, the island of Barbados is the newest port-of-call on TCA's West Indies route.'
That's the advertisement that appeared in all Canadian newspapers during the last week of November 1949. On December 1, Trans-Canada Air Lines inaugurated service to Barbados, which was added as a stop onto the once weekly Montreal/Bermuda/Trinidad route.
Ever since their introduction to each other, the beautiful Caribbean island and our airline have been involved in a relationship that has grown deeper and deeper throughout the years.
The first flight on a 44-seat Canadian-built North Star wasn't a perfect one. Its long-awaited appearance in the early morning of December 2, 1949 saw hundreds patiently waiting in the Barbadian early morning to see TCA's inaugural landing. Scheduled to arrive at 6:40 am, the plane touched down at 7:35 am, delayed at Bermuda by a thunderstorm. From Bermuda, the trip had taken just under six hours. The first leg, Montreal / Barbados, had taken over 10 hours. Today, (in 2000), the total flying time from Toronto to Barbados is just over five hours. That first year of operation saw 1,000 souls venturing back and forth on the budding air route.
The airline was then a mere twelve years old. Its equipment still in the developing stages, so much so that eight different aircraft types were used during the half century. After the North Star, the links then became the Super Constellation, the Vanguard, the DC-8, B-727, and B-767. Now it's the A320 and, during the winter, the A340.
Our photo is of the passengers boarding a TCA North Star at Barbados Seawell Airport for the return trip to Canada on December 2, 1949.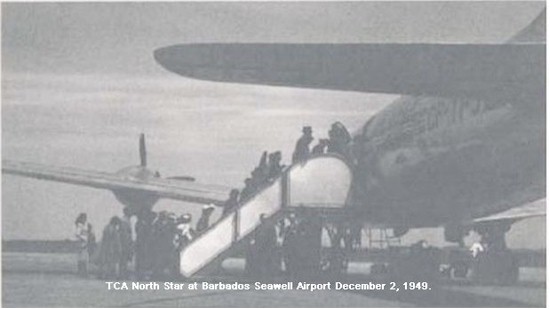 ---
Issue dated July / August 2000
Shalom from Tel Aviv.
Tel Aviv, one of Air Canada's popular destinations, is Israel's largest city— it's modern, thriving, bustling, and vibrant. On June 20, Air Canada celebrated its fifth year of service to this earthly paradise.
Our photo of the team was taken on June 20, 1995, the year when service commenced between Tel Aviv and Toronto.
Standing, left to right: Yoram Sviri, Accounts Co-ordinator; Ilana Menn, Customer Relations Manager; Fabienne Idar, Service Agent; Dorit Seror, Sales Representative; Esther Castiel, Sales Manager; Zehava Pesso, Sharon Herszaft, Shirly Ordo, Dorit Schalinger-Bechor, Customer Service Agents; and Adi Aharoni, Senior Assistant General Manager.
Sittng, left to right: Ruth Ben-Tzur, General Manager; Anita Asman, Accounts & Human Resources Manager; Nathalie Luzon, Customer Service Agent; Noemi Livny-Stein, Reservation Manager and Hani Ben-David, Accounts Coordinator.
Absent were Ran Pollak, Tzafi Horovitz, Customer Service Agents; Ariel Harris and Nir Zadikevitch, Airport Duty Managers.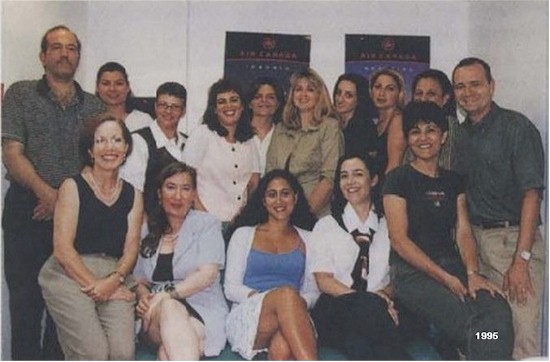 ---
Inaugural flight to Israel from 'Horizons' August 1995
Air Canada Opens Way To Israel.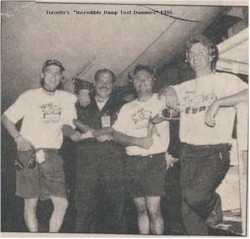 Air Canada's Flight 884 touched down at Tel Aviv's Ben Gurion Airport on June 21, 1995 it became the only Canadian carrier to fly to Israel. The warm reception by Israeli representatives made the historic moment even sweeter in the "land of milk and honey."

Sporting the official symbol of Israel's tourism/peace year, Air Canada's Boeing 767-300ER was a hit with Israelis.
'Keeping It Cool' - This photo by Brian Losito of the Toronto Station Attendants Michael Meleca, Bruce Smith, Phil Lettieri and Randy Reid, otherwise known as the "Incredible Ramp Test Dummies" had everything under control for the Tel Aviv launch.
---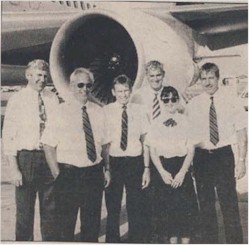 Members of the crackerjack Tel Aviv start-up team included, left to right: Jim McCall, Cargo Sales Coordinator - Prestwick; Mike "Mr. Belly" Bailey, Operations Coordinator - Heathrow; Steve Ruffle, Commissary Agent - Heathrow; Roddy McPhee, Customer Service Manager - Prestwick; Deborah Gilbrook, Customer Sales & Service Coordinator - Heathrow and Howard Lewis, Load Agent - Heathrow.
---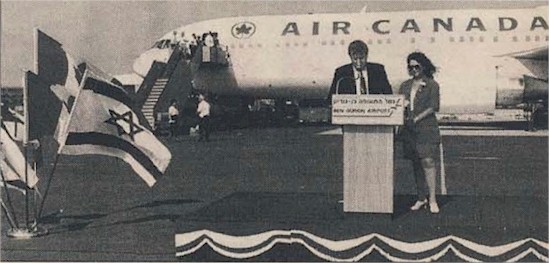 Israel's Director General - Tourism, Eli Gonen and Ahuva Ganor of the Ministry of Tourism welcomed Air Canada's first passengers to Tel Aviv on June 21.