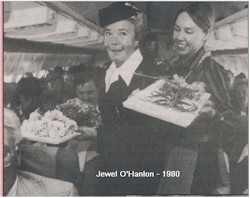 Reflecting on flight service over the years, Jewel said one of the biggest changes is simply numbers. "Today's flight attendant must handle many more passengers' sometimes with minimal time to perform duties.
On those early flights I had only 12 to 14 passengers to look after and we weren't going anywhere terribly fast so I had the opportunity to get to know them."
Jewel left the airline when she married in 1943. The original uniforms were cut from the same material as pilots' but accentuated the "nurse" look.
Contributed by Andrew Geider, Corporate Archivist