The Air Canada Story
DVD available for purchase.
For a six month period, the 'Wings Over Canada' crew was given unprecedented behind-the-scenes access to Air Canada. The result would be a first-ever one-hour TV documentary on the history and future of Canada's oldest and largest airline.
$18.95 CAD for 1 DVD at $18.95, $14.99 for employees of Air Canada (AC) plus shipping & handling (plus applicable taxes).
Source: wingsovercanada.ca/store_special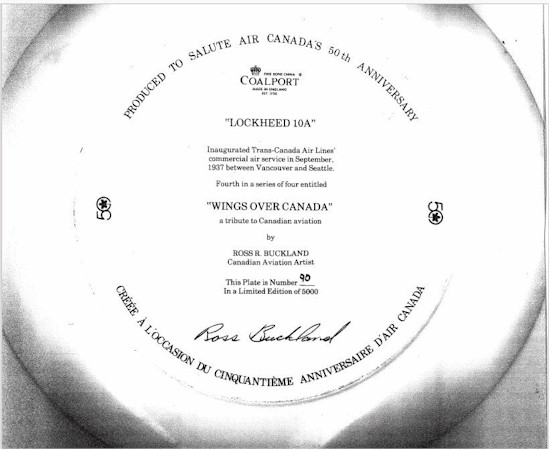 ---
Found in 'Horizons' magazine
Issue dated December 1999
Last flight.
On July 10, 1999 Captain Stirling Lush flew his last overseas flight, AC876, to Frankfurt. For the celebration, the crew decorated the galley.
Back row, left to right: In-Charge Flight Attendant Paul Escott; Flight Attendants Monica Chang, Simona Staronova, Lisa Lacroix, Sophie Palanbo, Diana Christie, Christiane Fehr, Hilary Bell, Genny Fraser, Jennifer Ferguson and Ahmad Elkadir.
Front row, left to right: First Officer Rob McCrimmon and Captain Stirling Lush.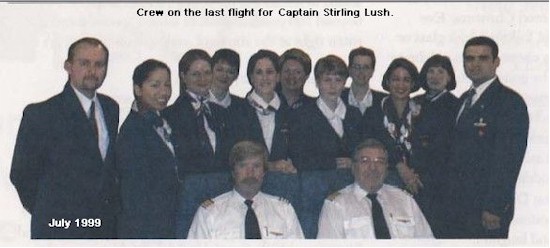 ---
Finance's Interline Accounting in Winnipeg celebrated Halloween on October 29, 1999 with costumes and a smorgasbord.
Back row, left to right: Finance Agents Kathy Kristjansson, Chris Balzer, Cam Marshall, Marla Rochette and Garry Guttek; Manager, Refund Services, Theresa Dudar; Finance Agents Marilyn Robin, Victor Nhan, Karen Dugan and Lorraine Strelezik.
Front row, left to right: Finance Agents Cheryl Santilli, Joanne Feldvari, Marina Paterson, Kim Jolicoeur and Terri Van Nest.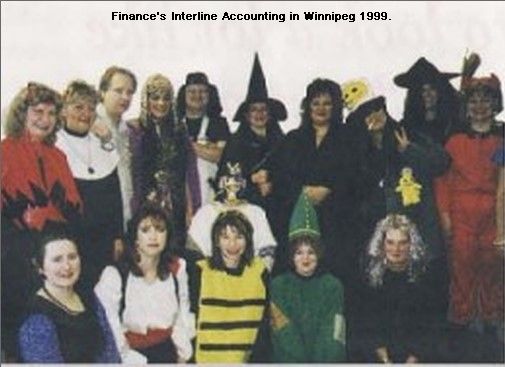 ---
Also, in celebration of Halloween on the same day, much fun was had by all at the Toronto Call Centre.
The best costume winner was Pauline Hodge.
Back row, left to right: Customer Sales & Service Agents Pauline Hodge, Lynne Kirton, Chloe Moreira and Alan Harris.
Middle row, left to right: Customer Sales & Service Agents Jennifer Castellino and Lesley Huether; Call Center Coach Counsellor Mary Manni; Customer Sales & Service Agents Audrey Dedombal, Michele Dedombal, Sheila Kavanaugh, Mark Kossecki and Sean Kinsella.
Front row, left to right: Call Center Coach Counsellors Charlene Shaw, Colleen Sauson and Guylaine Luchman; Customer Sales & Service Agents Diane Knoefel and Carla Cameron.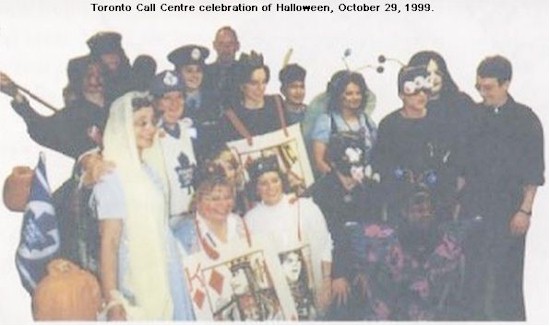 ---
Issue dated September 2000
Commissary employees and retirees get together.
On June 24, 2000 active and retired employees, some travelling from Victoria, Kelowna, and Toronto gathered for a BBQ and lawn party at the Benson cabin in Libau, Manitoba to reminisce.
They renewed old acquaintances and shared memories of their time together. A donation on behalf of the group was made to 'Dreams Take Flight'.
Back row, left to right: K. Batt, J. Hreckosy, D. Hamm, B. Pawlyk, K. Watson, B. Alexander and M. Benson.
Middle row, left to right: M. Jarvis, P. Tilbrook, R. Picken, B. Waugh, T. Rutherford, M. MacDonald, B. Ewanika and D. Hannaford.
Front row, left to right: D. Shute, C. McCarthy, W. Steiner, M. Livingstone, C. Homeniuk and D. Mikalajek.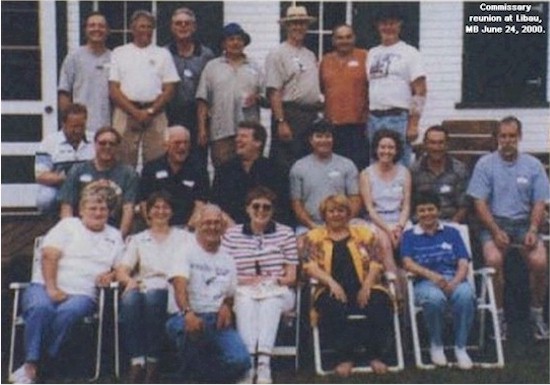 ---
Welkom to Amsterdam.
Flight AC838 links Canada and the Netherlands.
On July 3, 2000 Air Canada launched daily non stop Boeing 767-200 service between Toronto and Amsterdam, Europe's fourth largest travel market. To mark the occasion, renowned diamond cutters from Amsterdam and New York were on hand to certify that 'seeing is believing'.
Before boarding the flight, customers were offered a glass of champagne. Each glass contained a stone, in fact each contained either a cubic zirconia or a diamond. Our experts certified that two stones were diamonds and the rest were cubic zirconia. Two lucky customers boarded our flight with the real thing; authentic quarter carat diamonds, certified by our experts.
Pictured, left to right: Captain Bob Adamson; Jan Zandboer, President, Netherlands Board of Tourism; Carrie McPhadden, In-Charge Flight Attendant; Guy Lesser of Gassan Diamonds; Steve Markey, Vice President, Government Relations and Regulatory Affairs and Captain James Guild.