Here we have a pictorial of historic Wardair fleet.
Source: Air Canada 75th anniversary book.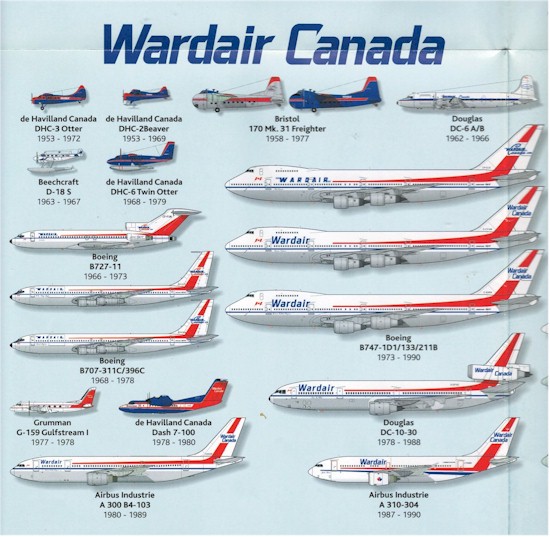 ---
Bristol Freighter CF-TFX Wardair.
In 1957, Max Ward bought this sturdy Bristol Freighter for his airline based in Yellowknife, to attract freight business from mining and oil companies.
The aircraft later made history, on May 6, 1967, by being the first wheeled aircraft to land at the North Pole flying out of Alert, Nunavut (then Northwest Territories) in support of a scientific expedition.
The following year, it was donated to the city and made into a monument near the eastern end of the airport, honoring Canadian bush pilots.
Source: AirHistory.net
Pictured below: Edmonton airport scene c.1960 showing Wardair's Bristol Freighter CF-TFX loading a Bell 47.
Happily, "TFX" eventually was saved for posterity. Today, it flies on forever atop its pylon at Yellowknife.
Source: Larry Milberry blog at www.canavbooks.wordpress.com

---
From 'InfoCanadi>n' magazine.
Issue dated August 20, 1987
Canadi>n Partners say hello!
All of the employees of Ontario Express Ltd., our Canadi>n Partner airline in Ontario, were on hand for this photo which recently appeared in a Toronto newspaper.
Part of the company's Jetstream 31 fleet is positioned in the background. The company began operations on July 15, 1987.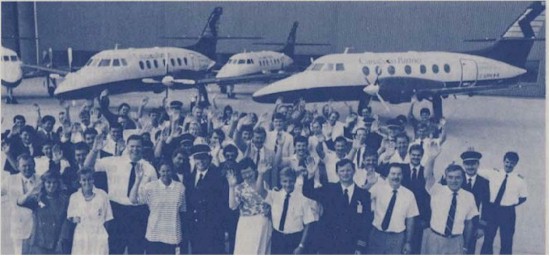 ---
Issue dated June 16, 1988
New jet-prop on Ontario routes
Canadi>n Partner began ATR-42 operations to Windsor, Sault Ste. Marie, Pittsburgh and Toronto on June 8, 1988.
Expansion due to the $155 million order for eight 48-seat ATRs, built by the partnership of Aeritalia and Aerospatiale, has boosted Canadi>n Partner's employee list to 189 people.
Sault Ste. Marie service will complement Canadi>n's jet operations to Toronto. For Windsor and Pittsburgh, introduction of the ATR-42 will provide additional seating on prime business flights.