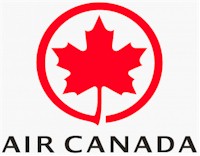 Regarding this edition's header image, we found a very interesting article at:
logos-world.net/air-canada-logo showing and describing each of the TCA / AC logos since 1937.
Click the image or the link to read the full article.
---
2001 - June 26 - First daily non-stop service from Toronto (YYZ) to Norfolk International Airport (ORF) with CRJ equipment.
---

Found in 'Horizons' magazine
Issue dated July / August 2000
The ABC of an 'H' check.
Just as your car needs a complete overhaul every now and again, so do aircraft.
Referred to as an 'H Check', this overhaul is usually carried out every 72 months, 26,400 flight hours, or 9,000 landings - whichever comes first.
Over 170 people invest 55 days and over 10,000 hours to perform this incredibly detailed check. The aircraft is reduced to a mere shell so that it can be thoroughly inspected for cracks, corrosion, delamination, and a host of other defects that accumulate over 18 years of service. Everything - and we mean everything - is removed from the aircraft - flight controls, engines, engine pylons, black boxes, sidewalls, floors, galleys, gears, lavatories, and chairs.
Recognized globally for our Boeing 767 expertise, we're able to attract third party maintenance work from carriers such as Martinair and Star Alliance member SAS.
We're in preliminary talks with other carriers, such as Airborne Express, KLM and LOT Polish Airlines to perform their heavy maintenance work.
Montreal's Heavy Maintenance team performs A340, Boeing 767 and DC-9 checks, while Winnipeg handles these for the A319 / A320.
Editors' Note: Air Canada now outsources heavy maintenance.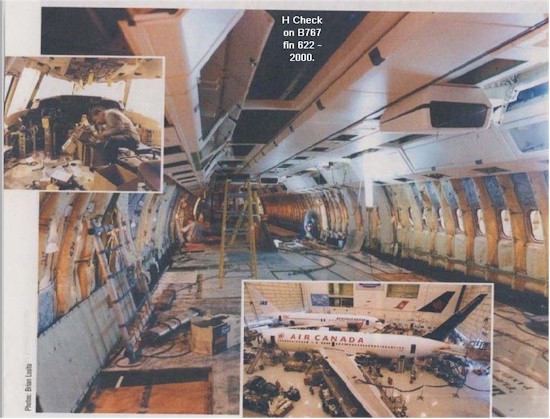 ---
Issue dated October 2000
Trans-Canada Air Lines employees annual reunion in Spring Hill, Florida March 2000.
In this photo we have:
Back row: Eddie Blanchette, Russ Colyer, Harvey Hutton, Zenie Barecky, Ray Reid, Tony Chown, Roger St. Laurent, Bob McMillan, Joe Dugas and Rocky Proulx.
Front row: Syd Beattie and Elwood Harris.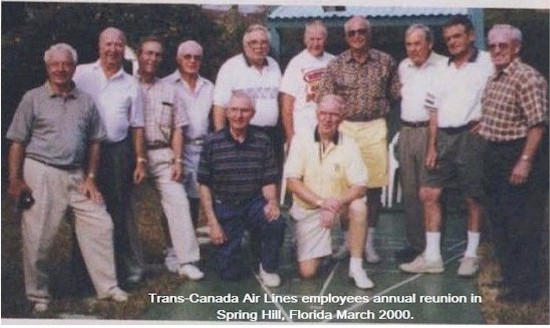 ---
Crew of Toronto-Kelowna inaugural flight.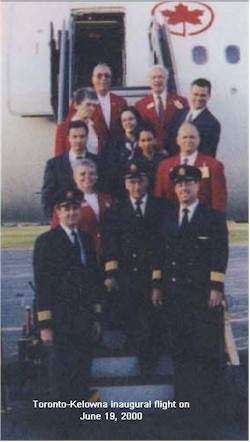 On June 19, 2000 Air Canada launched nonstop service from Toronto to Kelowna, the first ever Air Canada scheduled flight to this city. On arrival, the flight was met by Air Canada Pionairs, many of whom are Kelowna Airport Ambassadors.
From top to bottom, left column: George Daman and Rosemary Jobson, Airport Ambassadors; Corey Tabor, Flight Attendant; Lise Damskov, Airport Ambassador and Captain Derek Clarke.
Middle column: Nancy McPhee and Lula Anastanopoulou, Flight Attendants and Captain Gerry Norberg.
Right column: Ron Goran, Airport Ambassador; John De Verteuil, In-charge Flight Attendant; Gerry Damskov, Airport Ambassador and Captain Rob Giguere, Vice President, Flight Operations.
---
Issue dated February 2001
New terminal at Edmonton International Airport.
In 2000, last fall, the Edmonton International Airport opened its new south terminal, complete with nine gates for jet aircraft. Doubling the size of the airport with its 312,156 sq. ft. 29,000 sq. m.), it can simultaneously accommodate two international flights.
The welcome area for arriving customers is larger, has spacious lounges, and more check-in counters and over-sized baggage conveyors for skis and golf clubs. The new US Customs and Immigration facility is six times larger than the facility in the older north terminal.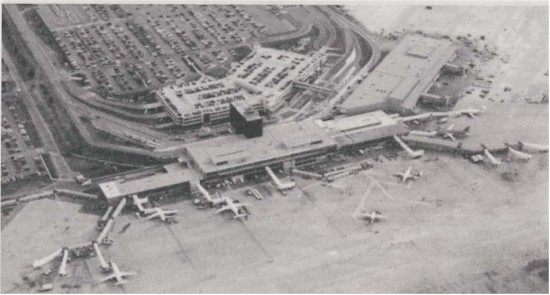 ---
Vancouver-New York (JFK) Inaugural.
On October 30, 2000 Air Canada launched the first daily non-stop between Vancouver and New York (JFK). "This new service is a very good example of how the integration of Air Canada and Canadian Airlines can serve to build our network here and strengthen our Vancouver hub," says Douglas Port, Senior Vice President, Corporate Affairs and Government Relations, at the inaugural event at Vancouver International Airport.
Air Canada and Canadian Airlines employees gathered round Douglas Port and Captain David Reid cut cake designed for the inaugural flight.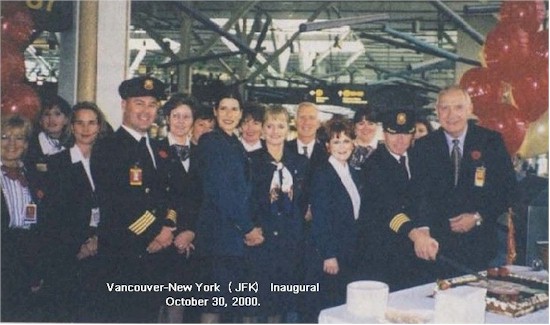 ---
Issue dated July 2001
Following the article by Mike Nash in NetLetter #1475 entitled 'First Automated Canadian Airline Ticket', we, at the NetLetter, extracted this information from the 'Horizons' magazine issue dated July 2001.
Electronic Ticketing. The product and its potential.
By Tammy Stuebs.
To maintain its strong position in the global airline market, over the years, Air Canada has developed many exciting, innovative tools. Behind every innovation is an exceptional group of employees continually strive to test the waters and defy limits. The Electronic Ticket Planning Group (ETPC) is no exception. Their mission was to replace conventional paper tickets with electronic ones, and ensure seamless customer service is maintained.
What is an electronic ticket?
First introduced in late 1995, Electronic Ticketing enables customers to travel without a paper ticket.
Flight information is stored electronically in RESIII and the ticket's image, similar to a paper ticket, can be retrieved on-screen, agents and travel agents to review.
E-Ticket has served as a foundation for other consumer-oriented products, such as the Personal Ticket Office and self-service Express Check-in kiosks.
In June, the first true Interline Electronic ticketing service was established between Air Canada and Star Alliance member United Airlines, when their two different computer reservations systems began working together to further penetrate the Transborder market.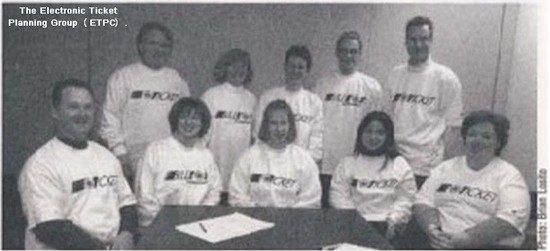 In this photo we have The Electronic Ticket Planning Group:
Standing, left to right: Jay Dickson, QIK-RES Sr. Analyst; Marielle Morneau, Manager, Agency Accounts; Julie Plante, Manager, Electronic Commerce-Electronic Ticketing; Tomi Klemm, Pricing and Ticketing Development Manager and Richard Pilon, Product Distribution Specialist.
Sitting, left to right: Christian Quintal, Manager, Customer Service Innovation Projects; Catherine Lakas, Customer Service Learning Development Manager; Rosanne Newman, Analyst, QIK Access; Monica Pagetto, Product Distribution Coordinator; and Cindy Isaacs, Customer Service Delivery Manager.
Missing: Kerry Graves, Manager, Call Centre Products; George Green, Manager, Industry and Systems Administration; Sandra Holmes, Computer and Technical Crime; Brent Madigan, Pricing Analyst; Carol Miles, Project Manager; Gloria Poirier, Field Support and Database Manager and Bonnie Walker, Manager, Agency Rewards and Recognition.