Corendon Boeing 747-400 - aircraft after life!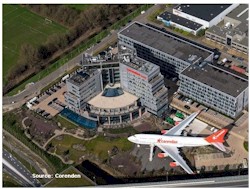 Continuing the 'Wayne's Wings' item from NetLetter #1481, another B-747-400 converted into a tourist attraction is the Queen of the Skies parked outside the Corendon Village Hotel in Amsterdam, Netherlands.
The jumbo jet is actually a retired KLM aircraft, registration PH-BFB, named 'City of Bangkok' that flew for the Dutch airline for 30 years. It was taken out of service in 2018 and acquired by Corendon.
To get the 160-ton plane to the hotel, it was transported via highway and through fields on a 200-ton trailer with 192 wheels.
The aircraft has been adorned in Corendon colours and put on display so the public can walk around or sit underneath the jet. Visitors can also tour the B-747's interior to see its seats, cockpit, and galleys.
Source: www.corendonhotels.com
Additional history: nl.wikipedia.org/wiki/PH-BFB (in Dutch)