Montreal's Engine Maintenance Centre is the Big 4-0.
While cleaning out a filing cabinet during the summer of 2000, Bill Erith, Manager, Technical Marketing and Customer Service-JT8D/APU came across what turned out to be a very historic document.
It was a third party contract signed years ago, October 24, 1960 to be exact, between Trans-Canada Air Lines and Canadian Pacific Airlines Limited (CPA), to overhaul and repair engines at the original Power Plant in Montreal.
Putting out a contract.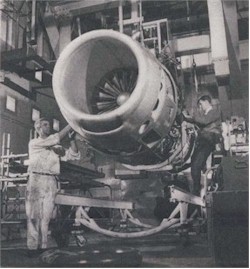 Marking our 40th anniversary of third party work it's the first contract for outside work completed within any Technical Operations branch. The 15-year long jet engine contract was for overhaul and repair of Douglas DC-8 aircraft equipped with Rolls-Royce Conway MK509 and MK 510 engines.
"That was our first crack at third party work," says Dave Diggle, General Manager, Component Maintenance. "Back then, we weren't as focused on building the business as we are today.
In those early days we accepted or rejected opportunities that came our way, as opposed to creating those opportunities.
"It wasn't until the 1990's that Technical Operations expanded its focus and aggressively pursue outside contracts. In 1990 we broke the $100 million revenue mark. By comparison, Technical Operations 2000 revenue is expected to exceed $175 million, with significant additional growth in future years.
As of 2000, current outside contracts in the Engine Maintenance Centre include operators throughout North and South America, Europe and the Middle East."
The photo does not identify the two employees.