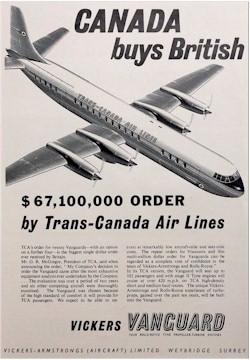 The Vanguard was a roomy aircraft, wide in the beam and long. Although it is designed to carry up to 130 passengers, the TCA configuration provided for 46 First Class and 50 Tourist Class seats in four cabins, allowing for ample space and maximum comfort for every passenger. The seating configuration was later changed to 18 First Class and 90 Tourist Class.
The Vanguard has a relatively short lifespan within the TCA / AC fleet, 1961 to 1972. A total of 23 aircraft were delivered between December 1960 and April 1964.
Registrations and fin numbers were all alphabetically and numerically sequential beginning with CF-TKA (Fin #901) to CF-TKW (Fin #923). According to Planespotters.net and our 'Featured Video' (below), Fin #904 was the first to be put into service.
Editor's note by Ken Pickford:
Compared to the very successful Viscount, with almost 450 built for many airlines worldwide (include 51 for TCA), the Vanguard was a commercial failure with only 43 delivered to just two original customers - 23 to TCA and 20 to British European Airways, plus one prototype.
By the time the Vanguard finally went into service in 1961, a couple of years later than originally planned, there was little interest in a large 4-engine propeller airliner with medium range jets like the Boeing 727 only a couple of years from going into service.