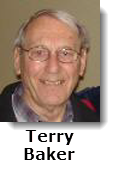 Terry Baker, co-founder of the NetLetter scours the internet for aviation related Trivia and Travel Tips for you, our readers, to peruse.
Travellers Tales – Alan Clark (husband of Lorraine Clark)
Originally appeared in the February/March 2022 UK Pionairs newsletter.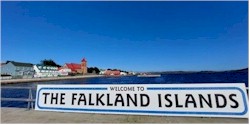 The Falklands – Natures unspoiled treasure.
Located 8,700 miles south of the UK, 400 miles from Argentina, this collection of 740 islands is home to 219 animal species including Penguins, Sea lions, Whales, Dolphins and many exotic birds.
The rugged treeless terrain, unusual rock formations and white sandy beaches leading to turquoise seas is something to behold, unlike no place on earth. The views from the rolling hills out to the abundance of water is simply breath-taking.
The Falkland islanders mainly live in Stanley, numbering 3200, with only a few hundred living scattered around the sheep farms in isolated communities. The other residents are military with a large camp at Mount Pleasant.
Margaret Thatcher (and the UK in general) is revered among the islanders as the saviour during the Falklands war in 1982; this year is the 40th anniversary. There are many statues of her and streets in her name.
The weather in the Falklands is an ever-changing cycle of snow, high winds and rain. Four seasons in one day is always expected. High winds are the greatest challenge is it's 50 MPH most days and can reach 100 MPH. So appropriate clothing is a necessity.
Currently the only way to reach the Falklands is by Military Air Bridge a 19hr flight, but once COVID relents, up to 3 cruise ships a week stop off on a South American cruise. All the islanders owning a 4 x 4 will greet you at the port to give you a tour of this nature's wonder they call home.
---
Continuation of the Air Canada nee Trans-Canada Air Lines History.

Started in NetLetter #1483.

Source: Air Canada 75 years of innovation
1948 -

G.R. McGregor took the helm of TCA in 1948. He was the oldest fighter pilot and top-scoring RCAF ace to serve in the Battle of Britain and a member of the first unit on the continent after D-Day. His tenure at TCA lasted 20 years.
Aircargo (now called Air Canada Cargo) officially hits the skies in the spring of 1948. The first shipment takes 7,500 pounds of pesticide from Montreal to northern Saskatchewan to save the rapeseed crops infested by army worm.
TCA performs the largest mass movement of immigrants in air transport history in 1948, when it carries 6,000 immigrants from the U.K. on 175 crossings of the Atlantic.

1949 -

Pilot René Giguère becomes the first TCA pilot to hit the 10.000 hours flying mark with the company, over 3,200,000 kilometres worth of piloting.
The employee moustache competition gets hairy! A pre-Christmas contest among staff at the engine overhaul shop in Winnipeg grows to 24 contestants. The entry fee is 50 cents, but those who back out have to pay a $2 penalty. The big winner is Ed Turner, who pockets $30 for his "full Whisker, distinguished in appearance and symmetrical in Shape."
Miss Gwen Robyns, a British journalist, finishes the last leg of a 45,866-kilometre tour around the globe on a TCA North Star in May 1949. The flight is to prove women can travel the world "fantastically easily," even with the 66-pound (30 kg) baggage allocation. Her luggage includes 12 cotton and wool dresses, two suits, a coat and a one-ounce cashmere sweater. Her lightweight shoes are made by the Queen's shoemaker.

1950 -

TCA flies 40 special round-trip flights between Winnipeg and Eastern Canada from May 8 to 13, 1950, to help out during a five-day emergency flood relief. The airline carries 500,000 pounds of non-perishable foods and other necessities to 2,500 evacuees when the Red River overflowed.
In July 1950, TCA welcomes its 3 millionth passenger; Mr. F.W. Crickard, a Vancouver businessman on his way to York. It turns out he was also aboard TCA's first Trans Canadian flight in 1939! He tells newsmen that TCA has "built one of the finest organizations in the aeronautical world and one of which every citizen of the Dominion can be justly proud."
In August 1950, a Chicago travel agency organized the Masked Mystery Flights, and TCA gets on board by shepherding 17 blindfolded men and women - who have no idea where they'll land - to Montreal for a weekend in the Laurentians. From August 22 to 31, 1950, a national railway strike helped TCA introduce thousands of people to air travel.
Thirty new routes are added in the 1950's, including Paris, Brussels, Vienna, Zurich, Tampa and Antigua. Over the same period, Canadian Pacific Air Lines, which would later merge with Air Canada, inaugurated service to Lima, Buenos Aires and Santiago.
Editor's Note by Ken Pickford:
Checking CP timetables during the 1950's, 8 international destination were added including the 3 South America points mentioned.
Latin America - Mexico City, Lima, Santiago, Buenos Aires
Europe - Amsterdam, Santa Maria (Azores), Lisbon, Madrid
More in our next issue of The NetLetter.