Travellers Tales – Alan Clark (husband of Lorraine Clark)
Originally appeared in the February/March 2022 UK Pionairs newsletter.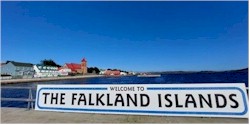 The Falklands – Natures unspoiled treasure.
Located 8,700 miles south of the UK, 400 miles from Argentina, this collection of 740 islands is home to 219 animal species including Penguins, Sea lions, Whales, Dolphins and many exotic birds.
The rugged treeless terrain, unusual rock formations and white sandy beaches leading to turquoise seas is something to behold, unlike no place on earth. The views from the rolling hills out to the abundance of water is simply breath-taking.
The Falkland islanders mainly live in Stanley, numbering 3200, with only a few hundred living scattered around the sheep farms in isolated communities. The other residents are military with a large camp at Mount Pleasant.
Margaret Thatcher (and the UK in general) is revered among the islanders as the saviour during the Falklands war in 1982; this year is the 40th anniversary. There are many statues of her and streets in her name.
The weather in the Falklands is an ever-changing cycle of snow, high winds and rain. Four seasons in one day is always expected. High winds are the greatest challenge is it's 50 MPH most days and can reach 100 MPH. So appropriate clothing is a necessity.
Currently the only way to reach the Falklands is by Military Air Bridge a 19hr flight, but once COVID relents, up to 3 cruise ships a week stop off on a South American cruise. All the islanders owning a 4 x 4 will greet you at the port to give you a tour of this nature's wonder they call home.