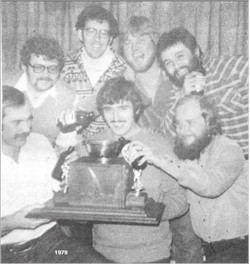 Team members from left to right are:
Don McCallum, YYG; Paul Brothers, YFC; Claude Goodwin, YYG; Paul Clark, TAS YYG; Chris Nicholson, YFC; Bob Hennessey, TAS YYG and Rosco Currie, YFC.
Annual Sales Blitz.
May 1988 was blitz month for Canadian Airlines sales offices across Canada.
Sales reps and volunteers from each city, equipped with information kits and timetables, visited all top accounts, travel agencies and other businesses to publicize the introduction of the B-767.
In Calgary, volunteer pilots and flight attendants in uniform accompanied sales staff as they blitzed local radio stations as well.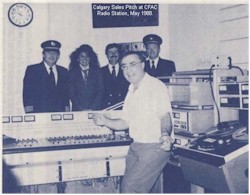 In this photo, disc jockey Don Slade of Calgary radio station CFAC greets with open arms, from left:
Barry Moffitt, Captain B-737; Penny Holden, Flight Attendant; Alan McDonald, Sales Representative and Vaughn Moir, Captain B-737.
Also participating in the Calgary blitz and visiting another radio station at the time of this photo were Ralph Tweten, First Officer B-737; Joanne Andrusiak and Cindy Gielnik, Flight Attendants and Andrea Olson, Customer Service Agent, Reservations.