Mackenzie Air Service, Ltd. - Canada (1933-1942).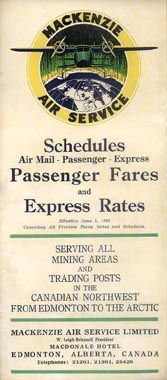 Inaugurates operations on January 1, 1933 by flying fresh vegetables from Edmonton to the Eldorado Mines at Great Bear Lake. The route to Great Bear Lake is continued. During 1938, scheduled flights are undertaken linking the company's base with Port Radium via Yellowknife and Gordon Lake.
During the spring of 1941, the carrier is purchased by Canadian Pacific Railway and is merged with the Canadian Airways, Ltd. service from Edmonton to Prince Albert under the marketing title United Air Services, Ltd. in July.

Six months later, on January 30, 1942, Mackenzie is one of several air transport companies merged to form Canadian Pacific Air Lines, Ltd.
Source: worldhistory.biz
Pictured is a timetable effective June 1, 1938.
Source: timetableimages.com collection of Bjorn Larsson