Great Lakes Airlines - Sarnia's own
Great Lakes Airlines was a regional airline formed in Sarnia, Ontario in 1958 by John Blunt. In the 1980's it merged with Austin Airways and became Air Ontario, later acquired by Air Canada and now part of Jazz.
An inevitable nickname, 'Great Shakes', was quickly bestowed on the airline due to the vibrations experienced on take off of their mostly turboprop fleet and, of course, the simple rhyme.
I remember that their gates were located in a satellite area of Toronto's Terminal 2, without boarding bridges, that we had to drive by on the way to Air Canada's gates.
Being new to the airport experience, I was pretty leery of being in the vicinity of the propellers as they taxied and made sure that my eyes and ears were open as I drove by.
I tried to find a fleet list of the aircraft that had flown for Great Lakes but was unsuccessful. I did find a page of seventeen photographs (five by NetLetter subscriber, Gary Vincent) at www.airhistory.net/basic-operator/20869/Great-Lakes-Airlines
I also found an article published on the Sarnia Historical Society website entitled 'When Sarnia Had its Own Airline'.
Written as a personal memory by Phil Egan for The Sarnia Journal; excerpt below.
"Great Lakes Airlines, at the time, had grown out of the fleet air arm of the Holmes-Blunt Group of companies that also owned Holmes Foundry, Eagle Machines in London, and other companies.
It operated two, 44-seat piston-engine Convair Metropolitan aircraft. One flight carried Sarnia business travellers to Toronto and back each day. The other aircraft was mine to peddle for charter.
I sold golf charters in summer to Georgia and the Carolinas, and hockey charters to Maple Leaf Gardens in winter. We used to offer a package that included round-trip flight from Sarnia to Toronto, a round-trip bus ride to and from Maple Leaf Gardens, and a ticket to the game (greys). The whole thing cost $25.
It was a small airline, and everyone did their bit to make it work. Laurie Chivers, the "chief stewardess," used to stop at John's Restaurant on her way to work to buy 44 doughnuts for the morning's flight. General Manager George Capern also flew some of the flights."
Additional info:
en.wikipedia.org/wiki/Great_Lakes_Airlines_(Canada)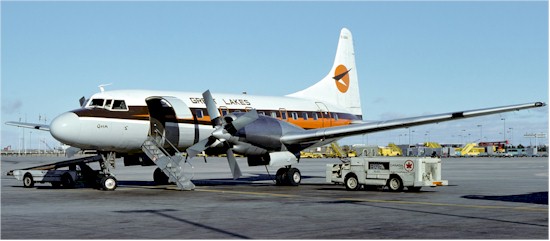 Convair 580, registration C-GQHA,
at Toronto, November 1977
Photo by Gary Vincent