More excerpts from the Larry Milberry blog at canavbooks.wordpress.com.
Air Canada B-767-200 series registration C-GDSP, Fin # 613 (Boeing serial 24142) was delivered in July 1988 and remained in the fleet for 20 years until withdrawn from service in August 2008 and stored at Roswell, New Mexico (ROW).
Per PlaneSpotters.net, it was acquired by Jet Midwest Group in May 2012 and re-registered as N756JM. It has since been broken up at ROW.
Editors' Note: This was the first aircraft delivered with the short term 'burgundy stripe' livery.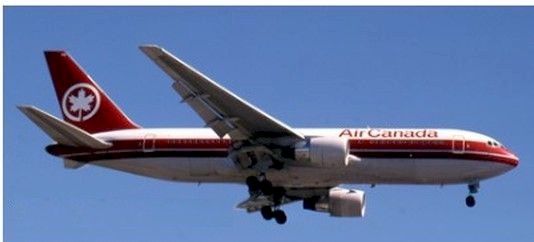 ---
Here's Imperial Oil's Lockheed Lodestar CF-TDB at the north end of Malton on June 11, 1961.
Having served Trans-Canada Air Lines (TCA) 1942-47, 'TDB' was later picked up by Imperial Oil. In 1966 "TDB" was sold to Pete Lazarenko's Northland Airlines of Winnipeg.
In 1974, I saw "TDB" at Harry Whereatt's farm in Assiniboia, Saskatchewan (Harry was an avid collector of historic airplanes). Last heard of, it was stored at the Reynolds Museum in Wetaskiwin, Alberta.
A few years ago, I heard that TDB's wings had been shipped to the RCAF museum in Trenton for use in restoring a Lockheed Hudson.
Editors' Note: Our records indicate that CF-TDB type 1808A-2200 Fin # 49 c/n 15582 delivered September 10, 1942, sold to Imperial Oil on October 23, 1947 with 14,200 accumulated flying hours.
---
Yet another classic Malton Lodestar — Noranda Mine's Lodestar CF-TCV on July 6, 1960. In the first photo below, 'TCV' is painted in white and light gray with blue trim.
It had had served Trans-Canada Air Lines (TCA) from 1941 until sold to Imperial Oil of Toronto in 1949. It next moved to Mannix Construction of Calgary in 1954, then to Leasair of Ottawa in 1957, finally to Noranda in 1958.
'TCV' also is seen in the second photo in an early TCA publicity photo taken near Halifax. In 1968, 'TCV' was exported to the USA, where it became N655KC.
Thereafter, its story remains a mystery. In this set-up shot, in the far distance under the nose is the new Field Aviation hangar. To the right of field is the Imperial hangar. Both buildings survive to this day. The big hangar in the distance on the right is Avro Canada's flight test hangar.


Editors' Note: Our records indicate CF-TCV Lockheed Lodestar 1808A Fin #44 c/n 14983 delivered January 7, 1941, sold to Imperial Oil Company on October 1, 1949 accumulating 17,198 flying hours.

---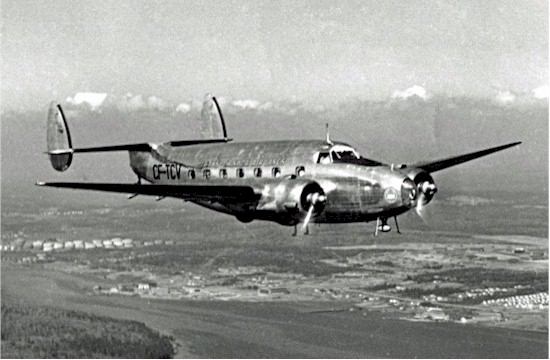 'CF-TCV' , in TCA livery, in flight over the Greater Halifax area with RCN Shearwater visible below the aircraft. Photo from the RAScholefield Collection at AirHistory.net.
---

Found in 'Horizons' magazine
Issue dated September 2003
Bermuda base recovers thanks to AC help.
Bermuda took a beating from Hurricane Fabian on September 5, 2003 that left extensive damage to homes, the bridge that connects the airport to the mainland, the airport itself and Air Canada's airport office.
Air Canada resumed service to the island four days later, with Bermuda employees working with minimum facilities. Many at Air Canada jumped in to help the Bermuda staff, including Osmond Harry, Regional Customer Service Manager; Captain Jim Guild, System Chief Pilot; First Officer Peter Boruta and In-Flight Operations Duty Manager Joe Donato.
"The Bermuda staff are grateful and thankful to Air Canada's family for coming to our assistance in the aftermath of the hurricane," said Veronica De Silva, Customer Service Manager.
"This was a team effort right from the start," said Jim. "We were able to quickly respond and help our staff get the operation back up and running thanks to the efforts of a large number of people in several departments."

Our photo of Air Canada's Bermuda employees. From left to right: Airport Customer Service Agents Carl Young, Sally Walsh, David Holder, Gina Outerbridge, Polly Ricketts, Veronica De Silva, Lynette Harris and Coordinator Operations, Carol-Ann Ramsay.
Missing from photo: Tina Barnard, Penelope Butterfield, Samantha Hayward and Lucy Monkman, Coordinator, City Sales.