Boeing CC-137 - Canadian Armed Forces
I wrote about the fleet of RCAF/VIP Airbus CC -150 Polaris current deployed (and due for replacement) in NetLetter #1338 from March 2016.
They were preceded by a fleet of five Boeing 707-347C's modified for military service. The CC-137 was a transport and tanker aircraft that served with Canadian Forces from 1970 to 1997.
All five of the aircraft, registrations 13701 to 13705, were originally ordered by Western Airlines of California and then purchased by Canada after that sale fell through.
The first four were delivered on February 24, 1970 and the fifth was delivered on March 24, 1971.
The first of the fleet, 13701, served with several cargo operators until it was retired around 2000. The other four ended up with the Northrop Grumman E-8 Joint STARS program either for spare parts or conversion to E-8C standard for the United States Air Force and are still in service today.
For a full list and known details of the lifecycles of these aircraft see:
www.rwrwalker.ca/CF_CC_137.html
Article source:
en.wikipedia.org/wiki/Boeing_CC-137
Additional info from Ken Pickford:
Interestingly, another former Boeing 707 that began life in Canada is also still flying as an E-8C with the USAF.
It was Wardair's 2nd (of two) B-707's, CF-ZYP (named 'W.R. Wop May') delivered March 1969. It was sold to long-defunct Austrian charter carrier, Montana Austria, in 1978 and was later seized by U.S. authorities in Houston, Texas while carrying an illegal arms shipment.
It was transferred to the USAF and after several years as part of the VIP fleet it was converted to an E-8C. Interestingly, that aircraft had a link to another Canadian carrier. It was originally ordered by Quebecair but cancelled before delivery.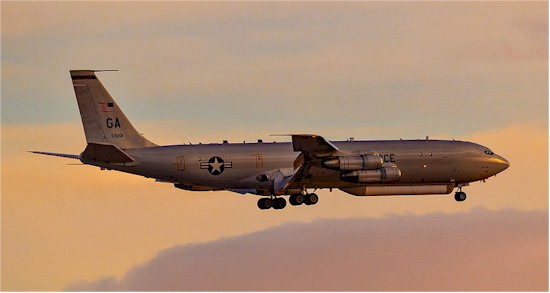 Former RCAF registration 13704, USAF 97-0201
by Tomás Del Coro on February 7, 2017
Posted at www.flickr.com.
---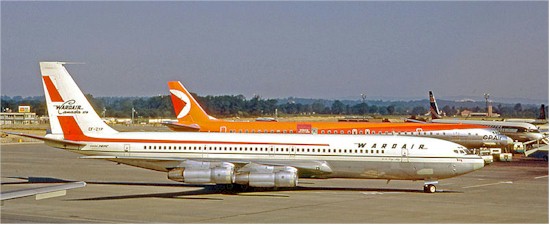 Wardair Canada Boeing 707 CF-ZYP
(now USAF 00-2000)
at London Gatwick in 1970
(with CP Air DC-8-63)
Posted at commons.wikimedia.org