de Havilland DH.106 Comet, RCAF
Subscriber James S. Shipton, retired Flight Lieutenant, RCAF Navigator, asked if we have ever done a story on the two RCAF de Havilland Comet aircraft that served from 1953 to 1963. We have to confess that, with the size of our current library of past issues, we could not remember if we had, so following is a condensed version of what we were able to discover (thanks to Ken's research).
There were two aircraft operated by the RCAF, serial #5301 (delivered May 29, 1953) and serial #5302 (delivered June 16, 1953). They were also the first jet airliners in service in North America (and Western Hemisphere).
They were used mainly to carry military personnel and VIPs to/from the various RCAF bases that then existed in Europe (with fuel stops). They were grounded with all other Comet 1's after the 3 fatal BOAC crashes in 1953 and 1954. After two years in storage they were ferried unpressurized to the factory in the UK for modifications to fix the structural issues, including replacement of the rectangular windows by oval windows and other fuselage reinforcements. They were returned to service in 1957 but weren't kept very long and were retired in October 1963.
It seems that the nose of 5301 is displayed at the Canadian Aviation Museum at Rockcliffe but most of the aircraft was scrapped in 1964. Both aircraft were sold to one owner after being withdrawn from service. Some parts from #5301 were used on #5302 which was initially registered CF-SVR, then N373S before finally being flown to Miami in 1968. It never flew again and was scrapped around 1975.
Additional information:
The de Havilland Comet in RCAF Service, first hand accounts by people who had direct experiences with these aircraft.
Canadian Military Aircraft, detailed list and condensed lifecycle of aircraft that served the RCAF.
Military History Books by Harold A. Skaarup; Canadian Warplanes 6: Jets, de Havilland DH.106 Comet.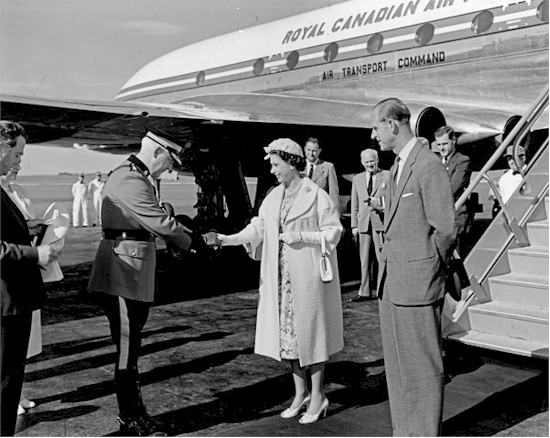 Queen Elizabeth and Prince Philip on arrival at Calgary Airport, Alberta, on July 9, 1959.