Recent posts to the Nordair Facebook page.
Posted by Peter Christian on July 5, 2022, who tells us "While reorganizing my toolbox I found my old stickers from YUL."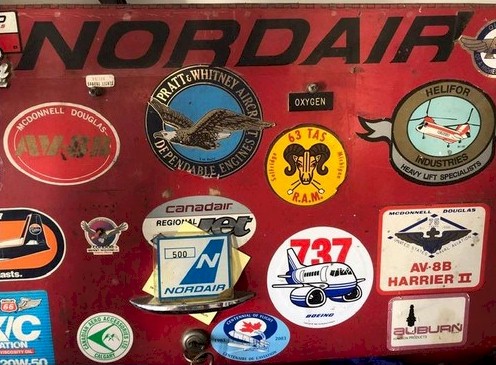 ---
Posted by Don Buck on June 13, 2022 - a 1974 newspaper article
Nordair ice patrol.
The 1974 Ice Patrol sponsored by Environment Canada is now in full swing with a four engine Lockheed Electra aircraft owned by Nordair operating out of Gander.
The aircraft, which is equipped with the latest in navigational equipment, will conduct patrols off the coast of Newfoundland and Labrador to plot the movement of ice from the Arctic areas into the major shipping lanes.
The ice patrol program is a service to shipping that utilizes the major sea routes of the north west Atlantic during the winter and spring seasons.
The aircraft took up its station several weeks ago, and will be operating out of Gander until the month of May. While in Gander, Nordair will utilize the services of Eastern Aviation Limited.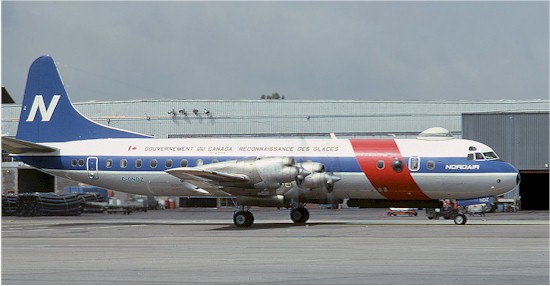 Photo courtesy of Pierre Langlois
Lockheed L-188C(IR) Electra - C-GNDZ at YUL June 1979.
---
QUICKET – Self-Serve Kiosks. Calgary-Edmonton Airbus.- G. Hickey
This article from a Quicket promo literature gifted by
G. Caron of Airdrie, Alberta
During the 1980's the ongoing popularity of the Airbus service was resulting in lengthy line-ups each day creating the need to find a solution. The Company looked at various options, one of which was to study how self-service might help.
American Airlines had been pioneering the development of 'self-serve' ticketing in the U.S. and following a series of meetings with them and with their major supplier, NCR we decided that the technology they were using and their approach was not suitable for the Airbus product and so we elected to design our own system from scratch.
The software component was designed in conjunction with Air Canada computer services to Pacific Western PWA specifications and in order for it work with the AC Reservec System.
Development took some months throughout 1986 and was not without its challenges and not all were technical. Labour Relations issues, Transport Canada security issues and accounting issues, particularly the credit card industry requirement for signature authorization.
All were addressed and all were firsts in the industry in Canada. The physical kiosk design came from a local Calgary design company. The Quicket name and graphic design came from our Advertising Agency and two kiosks were installed in each of the Calgary and Edmonton Municipal Airbus counter areas.
Credit card-driven, passengers made their choices through a keypad and could choose either window or aisle and smoking or non-smoking and were issued with a printed ticket/boarding pass.
Branded as "Quicket" the service was launched successfully and while the uptake was quite slow, as expected, (with the exception of Japanese business men who took to it readily) the expectation was that the usage would grow in similar fashion to the experience the banking industry first saw when they introduced ATM's.
Sadly, we would not find out as the subsequent purchase and merger with Canadian Pacific Airlines in 1987 meant the kiosks, designed to work with the AC system now could not function with the CP system.
It is testament to PWA thinking of the time however, that airports not just in Canada, utilize similar technologies extensively in order to assist passenger processing today, however, the first development and live trial of this type of technology by any airline in Canada was by Pacific Western Airlines.
Source: www.pwareunion.com