It's about the people!
We are a different breed, us aviation people.
Whenever I get together with past colleagues and new friends, I am amazed at what characters they are, myself included (of course)! Everyone has stories to tell, usually with a wry sense of humour.
At a recent Pionairs' Coffee Club meeting, I was asked what The NetLetter is all about. The question actually caught me off guard because I have never really thought about it.
However, my response came to me very quickly.
It's about the people!
In the moment, I think that what came to mind was a Stores (aka Purchasing & Supply) print newsletter, originating in YUL, titled 'Parts & Pieces' with the slogan:
'A Newsletter for Stores People - by Stores People'.

---
It fascinates me that there are people I have known for 40 years (or more) but have never actually met in person. Acquaintance was always by telephone or email (at one time, teletype) messages.
For twenty years, Parts & Pieces put faces to the names and helped stockkeepers, communicators, expediters as well as managers and clerks feel familiar with each other and part of a larger family.
For most of its life cycle Frank Pedder was the chief editor. Frank encouraged contributions from other Stores points including YYZ (Earle Coffin, Les Stevenson & Ken Biggers) YWG (Linus Endicott) and YVR (Ann Senko, Ted White & Julian Ireland). Apologies to those not mentioned, the list is very, very long.
As time passed and Frank was approaching his retirement in December 2003, he sent out a heartfelt issue thanking everyone for their participation over the years. He had hoped that a new editor would assume the job of editor but it did not happen.
I contacted Frank and, happily, he is enjoying an active retirement as he explains below:
"Our camping season is coming to an end with our 35 foot motorhome. Great retirement so far since 2004. I am still working part time driving a minibus for a 50 + club in Lachine Non Profit (THE TEAPOT) and Chartwell, which is a seniors retirement home so I am keeping busy at 80."
The NetLetter wishes to say thank you to Frank and all the other contributors to Parts & Pieces. We plan to include several excerpts in our upcoming issues.
At left, a caricature of Frank upon his retirement by Ken Biggers.
Below, Frank receiving best wishes from a few notables.
---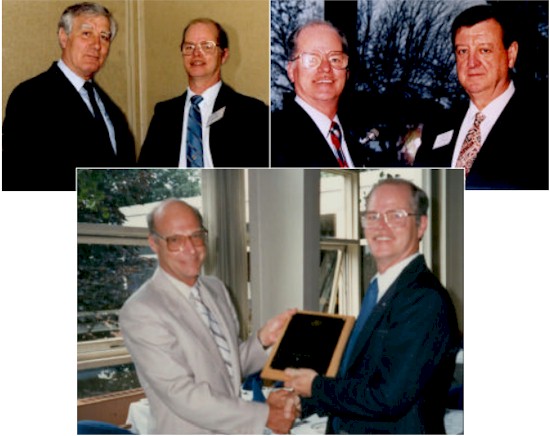 Frank with Pierre Jeanniot (top left), Hollis Harris (top right) and Bruce Aubin (bottom).
---

Click the icon to view Frank' 'thank you' edition.

Click the Icon to view one of the original copies of 'Parts & Pieces (bilingual edition) from December 1983.