1984 - November 26

Launch of Calgary - Edmonton (Municipal) service.

2022 - October 29

Set to launch Toronto/London/Mumbai daily October 2022 using the B-787 Dreamliner.
---

Found in 'Horizons' magazine
Issue dated November 1984
Cowed into submission.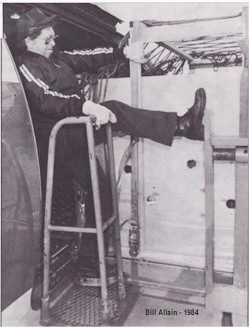 There are some things that the manual does not cover and other things that the computer does not know as Moncton Station Attendant Bill Allain learns.
It was definitely a case where 'push had come to shove' during a loading operation.
The 'passengers' were 245 purebred Holstein dairy calves being boarded on a cargo flight bound for Nicaragua. Although the service was first class, the normal cushioned seats were replaced by wooden crates with air holes.
---
Yarmouth is hard to match.
Employees in Yarmouth, Nova Scotia (YQI) continue to pledge full support of the Annual Campaign for Funds.
For the past three years the station has received a plaque in recognition of 100 per cent employee participation.
Shown admiring the 1981, 1982 and 1983 awards are, from the left: Jim Greig, Acting Manager and coordinator of the campaign; Rick Atkinson, Station Agent; Jim Kirby, Manager, Yarmouth; Station Agents Ev Kenney and Bob Moulton and Station Attendants Wayne d'Entremount and Bill Pothier, another coordinator.

---
Western Region Sales Conference.
During a three-day period early in November 1984, Air Canada's Western Canada management teams got together to share ideas and experiences at a Western Region Sales conference held in Vancouver.
Group task exercises run during the conference were designed to analyze the Passenger Sales Effectiveness (PSE) program being used by sales, reservations and airport personnel, and to then develop strategies for future improvement and expansion.
The conference was chaired by John Jeffrey, General Manager Northern Alberta and Jack Wallis, Passenger Sales Manager, Edmonton.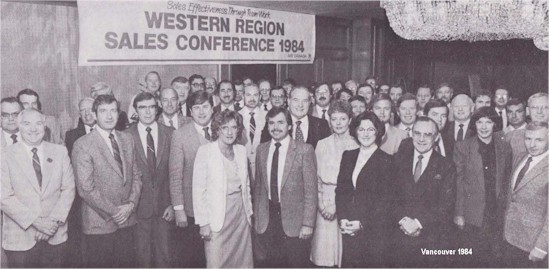 ---
Senior cyclists on the move.
Those who know John MacLean, former Regional Passenger Sales Product Manager, Vancouver, be surprised to learn how he is spending his retirement.
He has joined the Cross-Canada Cycle Tour Society which is planning a four-month bicycle tour of Australia and New Zealand.
Some 94 cyclists, all over 50 years of age, from across Canada, will participate in the excursion beginning on August 26, 1985. Before they return on December 22, they will have cycled close to 4,000 miles.
In all, 55 men, 39 women and 16 couples will make the trip. The oldest man is 73 while the oldest woman is 70.
In the photo below, John, left, is shown with members of the Cross-Canada Cycle Tour Society: Miep Dennison, Richard Lebeck and Ken Brothers.