Lockheed L-188 Electra
In our last issue (NetLetter #1492) we had a piece about aircraft in the 'Nordair ice patrol' leased by the federal government back in the 1970's.
I got curious to see if any of these aircraft were still in service. I found that there are still 23 Lockheed L-188's registered in Canada.
Air Spray of Red Deer, Alberta operates 14, Buffalo Airways of Yellowknife, NWT - 8 and Conair of Abbotsford, B.C. - 1.
One of which, C-FIJX (now with Buffalo Airways), was with Nordair between 1972 and 1976 registered as CF-NAX.
This aircraft appears at the beginning of the video linked below by videographer, Alex Praglowski, who describes how these versatile aircraft have found a niche in providing valuable service fighting forest fires in Canada's northwest as well as carrying cargo, including fuel, to remote areas.
Click the image below to view Alex's video.
List of L-188's at the Canadian Civil Aircraft Register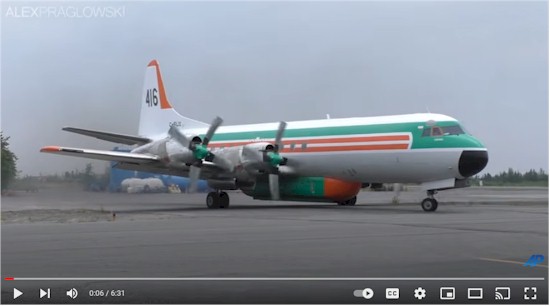 Why Do Lockheed L-188 Electras Still Fly in Canada?