Air Caravane
From subscriber David Hykle:
"Question for you: I wonder if readers have any information regarding 'Air Caravane' that appeared to operate DC-3 type aircraft in Quebec in the 1960's / 70's?
I believe one registration may have been CF-WIC and some photos may be found on the internet."
As David suggests, I did a quick Google search on registration 'CF-WIC' and found several photos, however, the majority were in Millardair of Toronto livery. However, I did find one in Air Caravane livery at www.airlinefan.com.
Surprisingly, I was not able to find much general info on Air Caravane. Unusual at a time when practically everything can be found on the internet.
So we'll send it out to our subscribers. Does anyone have any memories of the origin and lifespan of Air Caravane to share?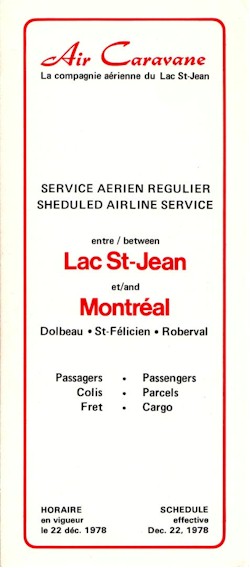 At left, the cover of an airline schedule for Air Caravane (La compagnie aérienne du Lac St-Jean) effective December 22, 1978.
Info from the interior of the schedule reads:
Do you know about our DC-3 Charter Services?
Passenger groups of up to 28 persons can be accommodated for sports events (teams or spectators), business or association meetings, hunting and fishing excursions, or any groups requiring specialized service in the commercial or recreational fields.
Cargo flights with payloads of up to 6,500 lbs. are also provided by Air Caravane.
---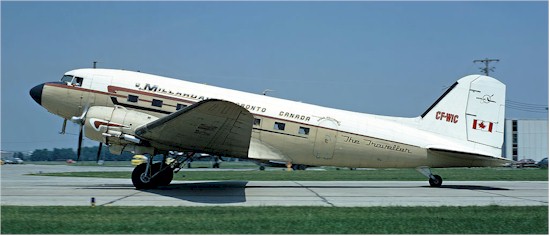 CF-WIC in Millardair livery
Toronto - June 30, 1971
Photo courtesy of Gary Vincent