Douglas DC-3 with an Interesting Lifecycle
While researching our last issue story on Air Caravane, we came across a particular Douglas DC-3 (C-47DL Skytrain) with quite an interesting lifecycle.
It was in active service for close to half a century and is now 60 years old.
It was originally delivered as a C-47 to the USAAF in 1942. After World War II service in North Africa and the UK, it was converted to a civil DC-3 and delivered to Canadian Pacific Air Lines in June 1946 where it was registered CF-CPW (Fin #173).
It was with CPA until 1957, when it went to Winnipeg-based Transair (acquired by Pacific Western Airlines in 1979) and re-registered CF-TAS. The photo below shows the aircraft in the basic Transair livery with the stylized "T" partially visible on the tail.
In 1974, it was acquired by Air Caravane where it was registered C-FTAS IN 1979. It was operated by Ladouc Air in 1980, Chaperal Charters in 1981 (pictured in issue header) and briefly by Air Inuit in 1985.
Later that year it was sold to Classic Air and again reregistered to HB-ISB. In November 2011 it was transferred to Global Jet Training and stored at Memmingen, Germany where it remains today.
Full lifecycle at: www.PlaneLogger.com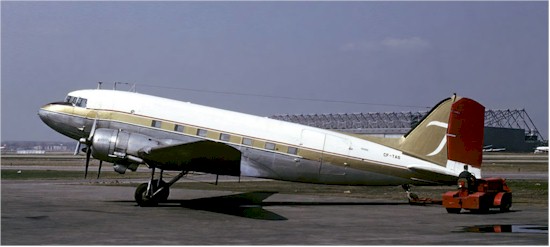 Photo courtesy of Gary Vincent
Montreal - May 1973
---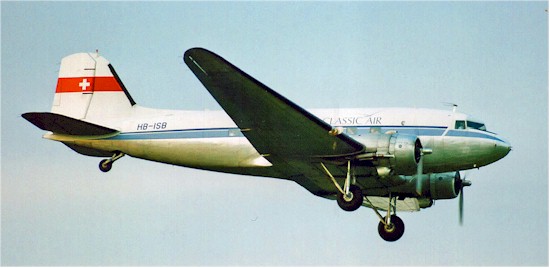 Photo courtesy of Freek Blokzijl
Zurich - August 1994.
---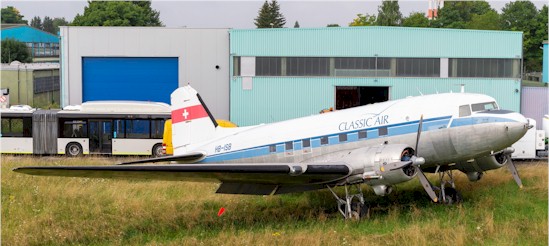 Photo courtesy of Stefan Bratner
Memmingen Allgäu Airport - August 18, 2021