Air Transat - 35th anniversary
I recently received a Simple Flying newsletter recognizing Air Transat's 35th anniversary. I confess that I have never flown on Air Transat but I have interacted with their maintenance staff on several occasions.
At the end of my career, working in Vancouver expedite, Air Canada had a fleet of six A330-300's and we were considered to be the A330 base so we usually had at least one overnight for an 'A' check. However, Air Transat actually had a larger fleet (at least twelve at the time) and we frequently borrowed or purchased parts from them.
Whether dealing with their main base in Dorval or Vancouver, it was always a pleasure to contact them. They could not have been more friendly, professional and cooperative.
Air Transat was founded by the current Premier of Quebec, François Legault (and partners) and made its inaugural flight on November 14, 1987 from Montreal to Acapulco with an L-1011 leased from Air Canada. I cannot confirm the aircraft but fleet history shows that C-FTNC (AC fin # 503) was leased in November 1987.
I have always thought that Air Transat filled the niche travel market vacated by the acquisition of Wardair by Canadian Airlines. During its 35-year history the Canadian aviation industry has seen several airlines come and go, however, Air Transat has remained consistent and has performed strongly in its market.
It was named the World's Best Leisure Airline at the 2021 Skytrax World Airline Awards.
As per PlaneSpotters.net it currently operates a fleet of 27 aircraft, 16 A321's and 11 A330's, with an average age of 10.7 years. It seems to be in very good shape for the future.

Click the icon for a selection of Air Transat videos posted on YouTube.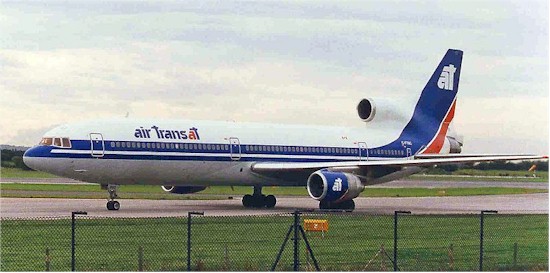 C-FTNC Air Transat L-1011 Tristar
Photo by Ken Fielding