The Joy of Volunteering
I apologize for being a little self-indulgent for this piece. Looking back to the beginning of my retirement a few years ago, one of my main concerns was filling my time (I'm not very good at being idle).
Thankfully, my concern did not last very long as I was asked to take on the treasurer position for the social group committee at a senior centre that I had begun to frequent. I guess that I fumbled my way through that with some competence because I was later asked to work with other non-profit social groups.
I have come to realize that there are many things that I could do at 40 years of age that I cannot do now at 70. However, there are just as many things that I can do now that I did not have the knowledge to do at 40.
This year, I found myself working with a group organizing the 'Christmas on the Peninsula' festival in White Rock, British Columbia. It was an amazing experience to be a part of a group of volunteers who donate their time for weeks to put on a one-day festival of music, food, vendors of unique gift items and, most importantly, smiling happy people.
It's always about the people and interaction that is the great joy of volunteering. I have found the most rewarding experience in my senior years.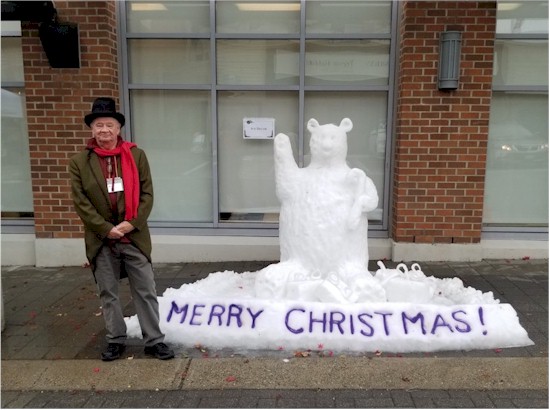 ---
Our photo for this issue's header (arranged by Sigrun Cowan) features a group of 'Green Coat' volunteers at YVR. The photo below (arranged by Ann Senko) features yet another group.
These are wonderful people who enjoy donating a few hours a week to provide a welcome service to others.
There are numerous similar groups at airports all over the world, who enjoy spending time in familiar surroundings, assisting travellers through the maze of an airport terminal.
More about the 'Green Coat' program at: