Former AC B-767's find a new home
For NetLetter #1500, we contacted photographer Rami Mizrahi for permission to use his photo of G-GHLV during its freighter conversion in Tel Aviv.
Mr. Mizrahi, very generously, sent us a group of his photographs including former Air Canada B-767 fin #692 (C-GHPN). This is one of two former Hawaiian Airlines B-767-300's that Air Canada acquired in 2011; the other being fin # 691 (C-GHPE). Among AC's very mixed fleet of B-767's, these were the youngest.
If I remember correctly, they had to be quickly pressed into service because the company was in the midst of major cabin conversions with the installation of the new (seatback) entertainment systems. Each conversion required an aircraft to be hangared for a few days, so they were used to replace these aircraft.
I do clearly remember flying to Montreal during that summer, looking forward to trying out the new entertainment system, and finding myself on board one of these aircraft; with no entertainment system at all.
Both aircraft had been painted in AC livery but the cabins had not been converted. They were both still in their original all economy configurations. I spent the entire flight doing Sudoku puzzles.
I don't actually know if their cabins were ever converted with the Thales entertainment system as both were transferred to Rouge in June 2013 where they remained until March 2020.
They were returned to the lessor and stored at Marana Pinal Airport (MZJ) until acquired by YTO Cargo Airlines of Hangzhou, China in 2021 and flown to Tel Aviv for freighter conversion.
Thanks to Ken Pickford for additional info.
Sources and links:
AC 691 at Planespotters.net
AC 692 at Planespotters.net
Former AC 691 in 'Hangzhou 2022 Asian Games' livery at Kunming:
---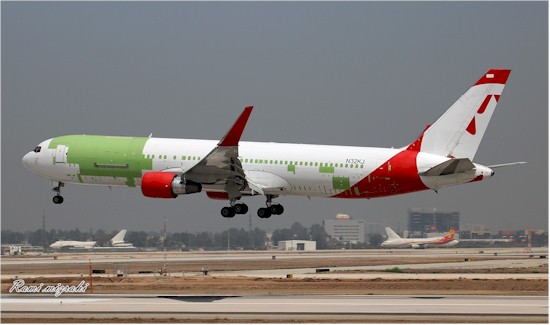 ---
Former AC 691 at TLV
Photos by Rami Mizrahi