CP Air B-747-200 (C-FCRE)
Of the numerous aircraft preserved around the world the vast majority are stored (and restored) and various museums. Some have been turned into restaurants or hotels, some are used for training purposes and some are submerged for the final resting places.
A rather unusual preservation story seems to be for one of the original four CP Air Boeing 747-200's.
Registration C-FCRE was delivered to CP in December 1974 and named 'Empress of Italy' (later renamed 'Empress of Australia').
It was part of the exchange with Pakistan International Airlines for DC-10's in December 1985 (the registration was then transferred to the DC-10, fin # 911, which sported employee signatures on the fuselage).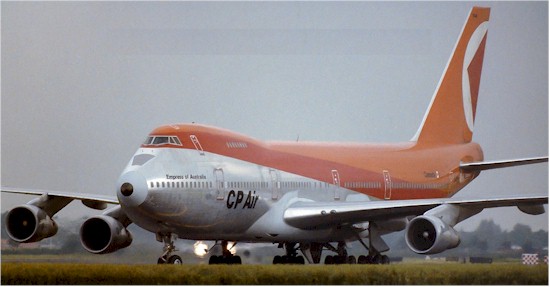 Amsterdam July 1984

Photo by Kees Marijs
Used by permission
---
It served PIA (registration, AP-BCL) for just over 20 years until 2006 when it was acquired by Orange Air of Sierra Leone. It was then acquired by Grandmax Group Ltd (briefly leased to Orient Thai Airlines) and stored at Rayong U-Tapao International Airport until broken up in December 2014.
Photo by Dean Morley @ www.flickr.com
---
However, it was re-assembled in January 2021 and is now on display at a Street Food Plaza in Pattaya! It may be worth the trip just to sit at one of those tables and enjoy a bowl of noodle soup with the massive aircraft in the background.
Click the photo below to view a series of photos of the re-assembly and transport by freelance photojournalist, Dirk Grothe. Used by permission (and our thanks).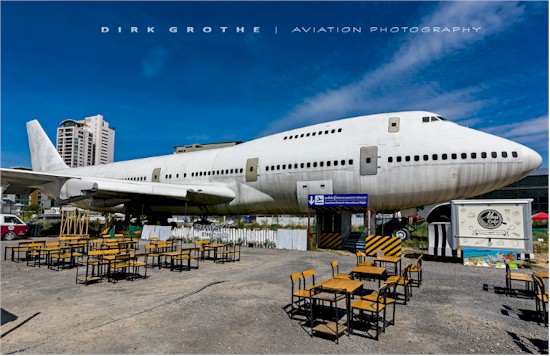 N899TH preserved at Pattaya, Thailand,
displayed at a Street Food Plaza.