Pem-Air
Once again with the suggestion of US subscriber, Richard Kruszka, I went digging through the internet regarding one of Canada's lesser known airlines; Pem-Air.
Although I don't have any conscious memory of ever seeing one of their aircraft; I must have during my early days driving around the Toronto ramp.
Looking in Google maps for city of Pembroke, Ontario, what comes to mind is its location. It is practically in the middle of the Air Canada Rapidair 'triangle' between Montreal, Ottawa and Toronto.
Pem-Air began flying as a Class II scheduled airline in 1970. Its first employee was John Smithman, a former RCAF pilot from Montreal, who had been flying as a captain with RoyalAir Ltd. a short-service airline based at the Montreal's Dorval airport. RoyalAir had been providing passenger services for Pembroke until it ceased operations in 1969.
John was a captain with RoyalAir and when he heard that Del O'Brien, a Pembroke Lawyer and 9 other investors wanted to build an airline to replace RoyalAir's services, he drove to Pembroke to meet with O'Brien.
Within three years, the airline's passenger loads climbed to 2000 a month. Its biggest clients were Petawawa Army Base, Atomic Energy of Canada and Eddy Match Company; flying service personnel and corporate employees to the three major centres. It does seem that, for a time, they had quite a nice niche market.
---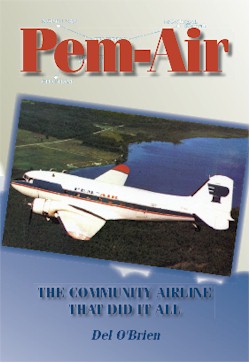 Pem-Air would become a member of the Canadian Partner loyalty program during the 1990's. However, during the turbulent times of the early 2000's, after 31 years of service the company ended all its routes between Pembroke, Ontario and Toronto Pearson International Airport due to dropping traffic levels with Atomic Energy of Canada (that was responsible for two-thirds of its business at Pembroke).
Commercial airline services were discontinued to refocus on its flight school, an aviation service operated jointly in partnership with Algonquin College and still in operation today.
Co-founder Del O'Brien wrote his first hand memories of Pem- Air tilted 'The Community Airline That Did It All', available at the photo link at above.
Source: en.wikipedia.org/wiki/Pem-Air
---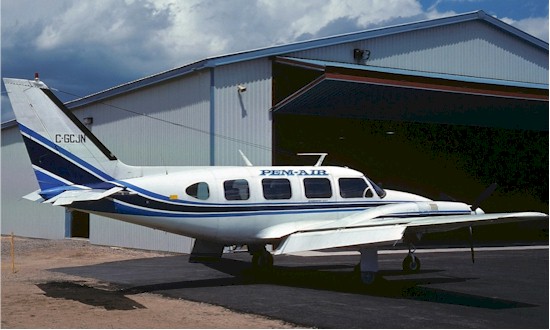 Pem-Air Piper PA-31 Navajo - C-GCJN
Photo courtesy of Alain Rioux