Conroy Skymonster (CL-44-0)
I love it whenever I can find a unique aircraft with a fascinating history. While watching this issue's "Featured Video', I noticed one unique aircraft that has been preserved at Bournemouth Airport in England since 2010. However, it has been scheduled to be scrapped several times and its current status is unsure. There have been rumours of a donation to a museum in Germany.
The 'Conroy Skymonster' is a specialized cargo aircraft designed by John M. Conroy, based on the Canadair CL-44 freighter, modified with an oversize fuselage (resembling a 'Guppy" appearance) during 1968/69. It is the only prototype ever built.
Its original purpose was to ferry Rolls-Royce RB.211 engines from Belfast to Palmdale, California to be installed on Lockheed L-1011 Tristars.
As per PlaneLogger.com the aircraft was registered in the United States as N447T and was originally delivered to Flying Tiger Line in 1961. After the modification it was leased by Transmeridian Air Cargo where it got its nickname, 'Skymonster'.
As per Wikipedia, after a long period of storage, activity was again seen around the Skymonster during the summer of 2013. In July 2013 it was registered N447FT in the United States to a Jordan Harlan Wayne, but has since been deregistered.
As of May 2021 the Skymonster remains at Bournemouth International Airport, moved from its original parking spot to make way for airport development.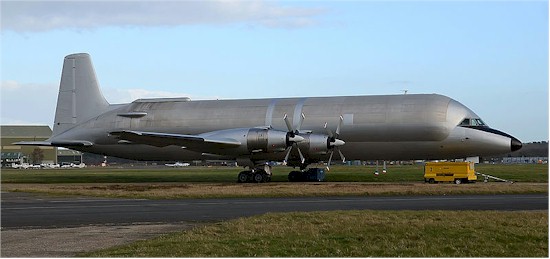 N447FT at Bournemouth Airport.
Photo by aceebee @ commons.wikimedia.org