Airbus A320
The A320 is quite possibly the most controversial fleet to ever enter service with Air Canada. Lost amid the allegations, inquiries and lawsuits is the fact that the aircraft has been a reliable performer for the past 25 years. The end of this era is now in sight with deliveries of the B737 MAX scheduled to begin 2017.
In retrospect, the acquisition of this fleet has proven to have been a sound business decision as the A320 is far more fuel efficient with a much improved turn around time over the B727 fleet that it replaced. Fourty-two aircraft of the combined Air Canada and C.A.I.L. fleets remain in service today including Fin# 201 delivered to AC in January 1990 and Fin# 401 delivered to C.A.I.L. in April 1991. Note: A319 and A321 fleets are not included in this count.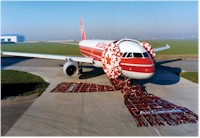 There is, however, a mystery that remains concerning the delivery of Fin # 201. Pictured here is the aircraft all decked out with earmuffs and a scarf as a symbolic welcome to Canada. The last time I saw those earmuffs was soon after the aircraft was deployed on scheduled service. I had been given task of storing them inside a double wide cargo container commonly referred to as an "Igloo". They were made of heavy plastic and wiring and a Forklift was required to initially load them into the container followed by a lot of nip and tuck (and a some battering) before I could do up the straps to keep them in there. Does anyone know whatever happened to them? How would they look on a B737 MAX?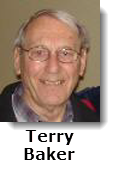 First Airport hotel opened at London Heathrow airport, England (1960)
The first hotel in the U.K. especially designed for air passengers costing 750,000 pounds opened to the public in January 1960. The four storey building was built in only eight months and officially opened by Mr. George Drew, High Commissioner for Canada. The Skyway Hotel has 160 rooms which are noise proof and centrally heated. Each has a private bath, shower, television and telephone.
The new hotel was owned and operated by Seaways Hotels Limited of Toronto.
---
From the T.C.A. June 1st 1948 timetable.
Fares exclusive of transportation tax
YVR-YYZ $262.35 - return
YVR-YYJ $ 4.00 one way
YYZ-YUL $35.15 return
YVR-LHR $488.95 one way double less 10% for return. No taxes
YYZ-LHR $355.57 one way double less 10% for return. No taxes
---
Departure fees -
Mont-Joli QC (YYY) increased from ca$5 to ca$10 effective February 15th, 2015.
Prince Albert, SK (YPA) will be increased from ca$10 to ca$15 effective July 15th 2015.
Victoria BC (YYJ) increased from ca$10 to ca$15 effective June 15th 2015.
(Source Air Canada web page)
---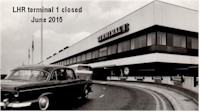 The last flight has departed from London Heathrow Airport's Terminal 1 and the airport prepares to decommission the facility after 47 years of operation. Opened as a domestic facility in May 1968, the terminal has now been superseded by the new Terminal 2, which was built as part of an £11 billion ($17.3 billion) investment program aimed at transforming the London hub.
Here is the conclusion of the information on Percy B. Waddy sent by Phil Pawsey started in NetLetter nr 1323 -
After the war Percy flew with TCA (Air Canada) until Jean's father convinced him that he should give up "this silly flying business" and that he and Jean should take over the family farm. Percy and Jean in following that advice made a great success of it along with raising a family.
As a member of MAARC, Inc., Percy was very supportive of all the Club's endeavors. At the turn of the century, he proposed that the Club should honor its senior members who had made major contributions to Amateur Radio during the 20th Century. At a special dinner, plaques were presented to twelve long time members of the Club and Percy was delighted that his suggestion found favour and had been adopted.
When Club member Alan MacLeod, VE2FUX, flew into Moncton with the Air Canada L10A vintage aircraft, he was very pleased to have Percy come on board for a local flight. Inviting Percy to the flight deck, he handed the controls to Percy. Percy talked about that experience for a long time after. Undoubtedly, it brought back many memories of his flying days with TCA (Air Canada).
Percy's time with us was all too brief. In the very few years that went by too quickly, he made many friends and contributed much to the Club. The Club was very fortunate to have had Percy as a member. All of us who knew him enjoyed his companionship and enthusiasm as a fellow Radio Amateur.
---
Betty Draper has sent this article she located in the "Times Sentinal" issue May 1st 1944.
Airline pilots' union formed.
Edmonton May 1st - Formation of The Canadian Air Lines Pilots' Association, (CALPA) a union of airlines and bush pilots, was announced officially over the week-end by Capt. Charles R. Robinson of Edmonton, Canadian Pacific Airlines pilot. President of the association is Capt. R.E.Hadfield of Winnipeg, Trans-Canada Air Lines pilot. Other officials are: First Vice-President, Capt. Robinson; secretary, Capt. R.J.Baker, T.C.A. pilot. Capt. Robinson said the CALPA is affiliated with the Air Lines' Pilots' association of the United States and the British Air Lines Pilots' association.
The association, he said, now is in the preliminary stages of negotiating the first major working agreement with a "large Canadian airline company".