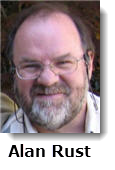 Gimli Glider - Air Canada FIN 604 memorabilia parts prepared for display at Gimli Museum
(submitted by Tony Walsh)

Below are sequential photos of the 3-window fuselage panel off Fin 604 at Mojave MHV that was display-finished to our specs by a third-party aviation display company in Illinois, our only source in conjunction with the current aircraft-parts salvager owners of Fin 604 and other AC B767-233s at Mojave that have been parted out and the only few remaining to be cut-up for alloy recycle, Fin 604 among them.

This 3-window fuselage panel arrived at Gimli on August 11, 2015 to local admiration about the quality of the finishing work and celebrations of the return to Gimli (for a second time) of a touchable part of 604 to be held for a future Gimli Glider Museum or display in Gimli. This museum will commemorate not a negative event, but a safe, successful and inspiring landing at Gimli despite the extreme circumstance, attributed primarily to Flt. 143's crew superb skills and indirectly to Air Canada's flight and cockpit management training and company culture.

Please click on the thumbnails below for larger images. More news and further developments are coming regarding this project and a special web page is being built to present this project properly with more photos and information.
Above photo courtesy of
The Winnipeg Free Press
The display finished 3-window fuselage panel from Fin 604 was shown to the municipal officers and staff on its arrival Aug. 11 and to the people of Gimli on Sunday / Aug 16, 2015. It was received with enthusiasm and emotion. In this photo I received from the project leader in Gimli, are RC aircraft model pilots attending the Gimli Model Airplane Festival, who insisted on touching it and having a group photo with this actual piece of the Gimli Glider. A similar reception occurred everywhere the fuselage panel went. One resident said that the hair stood up on his neck and arms when he touched this real piece of Fin 604, on its second Gimli arrival 34 years later."
We'd like to thank Tony Walsh who was instrumental in making this happen and provided the photos above. Although he is a Delta, BC resident and does not live near Gimli, he states - "I am motivated to help the people of Gimli in this endeavor in memory of the late Rick Dion – Air Canada AME and close friend who as most of you know was on board Flight AC143 on July 23,1983 and in the cockpit for most of the glide to Gimli."
Tony Walsh / Retired AC – Mgr – Airport Operations Services – Western North America & Pacific Rim – YVR based
---
If you would like to support this endeaver, then please send a cheque marked GIMLI GLIDER FUND to the address below. You'll receive tax receipt in mail later from the Rural Municipality of Gimli:
RM of Gimli,
P.O. Box 1246
Gimli, MB
R0C 1B0
Tel: (204) 642-6650 (# needed if sending express)
Anthony Walsh will be keeping a tally of donators, and there will be a posted list of donors at the future Gimli glider pavilion, so please advise amount when you send off the cheque.
Anthony Walsh This email address is being protected from spambots. You need JavaScript enabled to view it.
Ted Beaudoin has been researching the Royal Air Force Ferry Command for his book "Earth Angels Rising".
This decade-long project, for which research began in Jan. 2005 and ended in January 2015, has morphed into a trilogy.
The months of December 1939 and January 1940 saw the start of recruiting of air and support ground crews, and administration personnel, along with the delivery of aircraft from the USA into Canada. The actual flying of bombers across the North Atlantic Ocean only began on Sunday, Nov. 10th, 1940 with a Canadian National Railroad company… the Canadian Pacific Air Service which came into being earlier, in September, 1940. It came to be known unofficially as the CPASD - or Canadian Pacific Air Services Department, a branch of the Canadian Pacific Railway - CPR .
This same operation was also known by two other identifiers… ATFERO for Atlantic Ferry Organization and its Return Ferry organization/service, the RFO/RFS, for which no known logos have yet been "found" on the net, nor in corporate archives of the CPR. By April 1943 the fourth and final name change was made revealing the final "official" name of the operation, the one by which is was formally known and recognized throughout the world - the R.A.F. Transport Command. Little wonder it's been difficult to find useful and accurate results on this incredible airborne armada by using only the words "Royal Air Force Ferry Command" or "Ferry Command".
I`m trying to find out how many men and women from Canada`s commercial carriers between 1939 and 1945 may have been `seconded` to the RAF FC... your NetLetter is about the only way I can find out about this. Canada`s civilian aviation - busy lines, larger regional carriers and Canada`s CP Air in its early days and TCA among others contributed greatly to the effort and I do not think they should be overlooked.
Perhaps some of you readers may have had relatives within Canada`s civil aviation community who did join, either as full-paid employees of the British Air Ministry - who funded the RAF FC, or were seconded to it by their own carrier.
Ted Beaudoin, This email address is being protected from spambots. You need JavaScript enabled to view it.
---
Ken Pickford sets the record straight with these comments regarding NetLetter nr 1324 -
The AC DC-8 fire at YYZ was June 21, 1973, not June 22. Here's a related news item from the Montreal Gazette dated June 22, the day after the event: Click here for a photo of the same DC-8 at Vienna in August 1972, 10 months before its demise. The flight preparing for departure when the fire occurred was en route to Zurich and Vienna. CF-TIJ, FIN #822, was one of 3 DC-8-53s (Pratt & Whitney engines) acquired by AC in 1968.
---
We refer to the photo of the model sent in by Per Christensen in NetLetter nr 1324, and received several observations -
Richard Coulter had this comment -
I believe the model of the DC4 at the beginning of your letter is really a North Star as it has Merlin engines and square windows. the DC4 has oval windows and radial engines.
Ken Pickford also had some comments and some historical information -
Re the photo of the Canadian Pacific model aircraft submitted by Per Christensen which he refers to as a "Douglas DC-4", while based on the DC-4 design it was actually a Canadair C-4 (also referred to as DC-4M) with Rolls-Royce Merlin engines, and pressurized unlike the Douglas-built DC-4. The version built under license by Canadair in Montreal was of course known by the manufacturer's "North Star" name by TCA (and the RCAF which operated an unpressurized transport version). CP didn't use the "North Star" name, referring to their four aircraft only as "Canadair C-4". BOAC, the other original customer, called theirs "Argonaut".
The aircraft represented by the model, CF-CPR, "Empress of Vancouver", was unfortunately written off in a landing accident at Tokyo on February 9, 1950. Overran the runway into the water. No fatalities or serious injuries (a NetLetter some years ago had a couple of photos of the aircraft in the water at Tokyo.)
The other 3 CP aircraft were sold to TCA in 1952 to join the rest of their North Star fleet. That was about the time CP's more capable and economic Douglas DC-6Bs began arriving. CP also acquired several used Douglas DC-4s from Pan American around that time.
One of the ex-CP aircraft sold to TCA was the North Star lost in the mid-air collision with an RCAF Harvard trainer over Moose Jaw, Saskatchewan on April 8, 1954, killing all 35 on the North Star plus the Harvard pilot and one person in a house in Moose Jaw struck by falling wreckage.
Regards, Ken
and this from Bob Barwick -
NetLetter Feedback - The photo of the model of the CPA DC-4 is of course the Canadian built North Star. TCA , CPA, BOAC and the RCAF operated these aircraft. My time on the North Star was on 426 Squadron, RCAF. TCA actually operated some of the RCAF North Stars until their own were delivered. BOAC called the aircraft the Argonaut. RCAF North Star 17515 is being restored at the Canadian Aviation Museum in Ottawa by "Project North Star" volunteers and member contributors. This aircraft is described on my license as a DC-4 M2. You can see the Merlin engines in the photo.
RW (Bob) Barwick
---
Jack Mills refers to NetLetter nr 1323 and 1324
Just to add to Ken Pickford's very informative e-mail on the history of the ex Wardair and Canadian Airlines A310s, I thought it might be of interest to add a few additional comments.
A company that I started quite a few years ago, and that I recently retired from, had and continue to have a contract with the RCAF that provide some technical operational support for their CC 150 Aircraft (ex A 310s) that are now operated by 437 Squadron. These aircraft have been reconfigured to RCAF Specs and operate in various configurations.
Some operate as tankers in the aerial refuelling configuration. The others in passenger, Cargo and VIP. They support CF 18s and other aircraft in the tanker role. They are all very active. I thought that this might be of interest to know the activities that these aircraft perform in different roles during their lifespan.
Thanks Ken for your update. Sincerely, Jack M. Miles
---
Ron Carradine sends us this memory
Reading the Netletter often brings back memories, but the strangest one so far was the photos in Netletter#1324 of the DC-8 CF-TIJ (822) which caught fire during re-fuelling. Although I am not in the picture I have a weird connection to it.
At that time I was on " Lav" servicing on the day shift, and sure enough the "Lav" truck trapped under the tail section was the vehicle I was assigned to. (The fire occurred on the evening shift.)
Ron Carradine, (Retired)
---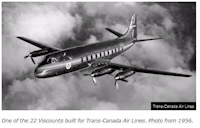 Norman Hogwood, a reader from New Zealand was checking out "Alan's Corner" and the information in Peter Piggott's latest book and came across this photo and made the comment -
One thing I, and thousands of others know, is that TCA had more than 22 Viscounts!
Cheers. Norm
(A total of 51 Viscounts were operated by TCA/Air Canada - eds)