Airbus A330 - Steady and Reliable
I have a special fondness for this fleet. During my last years as an active employee I was an expediter in Vancouver ordering parts for planned overnight line maintenance work.
The fleet of eight A330's (Fins 931 to 938) regularly rotated through Vancouver nightly as Vancouver "owned" the fleet in terms of line maintenance. Since they are a relatively small fleet we would often see that same aircraft once or twice a week.
Our A330 for the night usually arrived on flight 137 from Toronto at approximately 20:00 and, after being off loaded, was towed to the hangar for the maintenance crew whose shift began at 20:30. After the overnight visit, the aircraft was towed back to the ramp and most often be assigned to flight 142 back to Toronto followed by a flight to a European destination.
Air Canada took delivery of the eight aircraft direct between January 2000 and August 2001.
Unlike the similar (but under powered) four engine A340, the A330 is well powered by two Rolls Royce Trent 700 engines. They have approximately the same range (10,000 kilometres) as the B767-ER fleet but have more capacity and often alternate with that fleet on domestic and international routes depending on the season.
Over the years there has been frequent speculation that these aircraft would be phased out of the fleet with the deliveries of the B777 and B787 fleets but all eight are still going strong after sixteen years of reliable service.
Betty Morgan has found these photos with the following comment -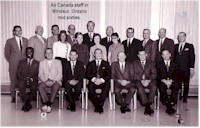 This was the staff in Windsor, Ontario where we were from '66 to '69. I used to know all their names. I remember Harry Fase and a couple of the others, but would love to have them all identified.

We loved it there and Jack was in his glory, with all of Detroit for him to sell. My memory is not so good for names any more but maybe these are useful for someone.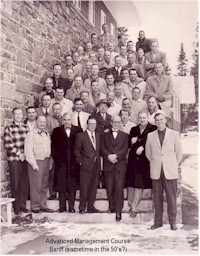 Here we have the group on the Advanced Management Course Banff (sometime in the 50's?)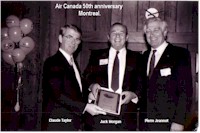 and this photo has, left to right; Claude Taylor, Jack Morgan and Pierre Jeanniot at Air Canada's 50th anniversary - Montreal.
Betty Morgan
---
Paul Goodman has sent us this undated photo of Air Canada flight #777 flight attendants.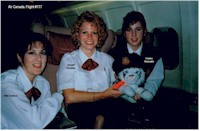 From the left: Mimi Cadieux, Jannett Pechman and Franca Peusasto. I think this photo is between 15 to 20 years old.
Thank you,
Paul Goodman