United announces low-fare restrictions.
United will become the first major U.S. airline to limit low-fare customers to one carry-on bag that fits under a seat. Such customers will not be assigned seats until the day of departure, meaning some people traveling together may not be seated next to each other. It was unclear if this move would prompt similar moves by rivals. However, airlines have frequently copied each other in the past. (source Reuters)
November 7th, 2016 was the last day Air Canada operated the Toronto–Santiago-Buenos Aires route with a Boeing 767-300ER. The Boeing 767 fleet operated on this route since 2003. As of November 8th customers now travel aboard a Boeing 777-300ER until the summer 2017 when it will switch to the 787 Dreamliner.
November 13th, 2016 resumption of seasonal service between Vancouver and Palm Springs aboard Air Canada Rouge 767-300ER, making it the first carrier to operate a wide body aircraft to Palm Springs and the largest aircraft operating there for the winter season.
November 18th, 2016 launch of seasonal service between Montreal and Puerto Vallarta aboard Air Canada Rouge Boeing 767-300ER. Its first time a B767 operated on this route.
Plans in June 2016 to begin (seasonal) daily Vancouver-Frankfurt (787) and three-times-weekly London Gatwick (767).
(source SpeedNews Nov 11/16).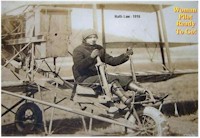 In this 1916 photo, we see pioneer aviator Ruth Law.

Click Here for her Wikipedia page.