Vintage Wings Restructuring
(From www.vintagewings.ca)

Vintage Wings of Canada is restructuring the way it conducts its flying operations and public outreach programs. To understand these changes and their implications, it is helpful to recap the nearly 20-year history of the collection and its 14 years of operations under the Vintage Wings of Canada name.
In the late 1990s, Ottawa high-tech entrepreneur Mike Potter, a lifelong aviation enthusiast and pilot of high performance aircraft, embarked on an ambitious plan to acquire a world–class collection of classic aircraft in flying condition. The Michael U. Potter Collection was to have a distinctly Canadian focus, comprising the finest examples of types that played an important role in Canadian military and civilian aviation history.
The power of this collection to inspire emotions and open up dialogue came into focus in the summer of 2001. Potter had completed the repaint of his beloved Supermarine Spitfire Mk XVI in the markings of one that flew on combat operations with 421 Squadron, Royal Canadian Air Force during the Second World War. In August of 2001, with the help of volunteers, he planned an unveiling event at the Canada Aviation and Space Museum in Ottawa and invited Canadian air force veterans and their families. With scores of eighty-something veteran pilots among the 3,000 or so in attendance, Potter demonstrated the flying qualities of the Spitfire with several emotional and inspiring flypasts for the invited guests. The sight and snarling sound of a Spitfire in swift flight, light glinting from her elliptical wings in the afternoon sun, brought tears to the eyes of many of the veteran fighter pilots in attendance. For many, it was the first time they had seen a Spitfire since their demobilization after the war.
At the end of the demonstration, Potter taxied the Spitfire up to the crowd and volunteers helped veteran pilots to step up on the wing and into the cockpit. Memories were rekindled. Tears and laughter mingled with silence and pride. Families saw their aging grandfathers in a new light, one swelling with both admiration and compassion. Everyone in attendance felt it — the obligation we have to remember the brave young men from Canada who flew in combat, many of whom paid the ultimate price, deprived of their future so that we might have one.
Click here or on image to read the full article
Worldways Canada 1973 - 1991
"Anyone Remember Worldways Canada Ltd?" is the title of a forum at Airliners.net with several posts written by former employees who certainly seemed to enjoy their time with the airline. There is also a Facebook page to commemorate the company.
Founded in 1973 by Roy Moore, Worldways competed with Wardair in the Canadian charter market and, as I recall, was doing quite well in the early 1980's and had built a maintenance hangar on Convair Drive in YYZ. Does anyone know if this hangar is still standing and, if so, who is occupying it today?
Rzjets.com lists 20 aircraft operated by the airline during its existence including 5 L1011 Tri-Star's (N336EA, pictured, was a brief lease from Eastern Airlines from June to September of 1990), 4 DC-8s purchased from CPAir, 3 Boeing 707s, 2 Boeing 727s, 2 Convair 640s (Acquired from Pacific Western Airlines), 3 Learjet 35As and 1 Learjet 25.
Unfortunately, it appears that Worldways Canada became one of the first casualties of the turbulent and highly competitive 1990's in the airline industry. It has left behind many fond memories from former employees and passengers.
Shirlee Schacter has sent us this information and photo -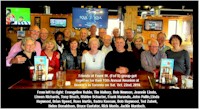 Happy times once again as the Friends of Front St. (FoFS) group got together for their 15th Annual Reunion at Hooter's in Toronto on Sat. Oct. 22nd, 2016.
While the attendee size varies from year-to-year, the fellowship that's enjoyed from meeting up again with old friends and colleagues never wavers!
Names in group picture from left to right: Evangeline Kubin, Tim Mallory, Bob Newson, Jeannie Lindo, Liveen Richards, Tony Bruch, Shirlee Schacter, Frank Marando, John Pallin, Linda Haywood, Brian Speed, Russ Martin, Sadru Kassam, Bob Haywood, Ted Zubek, Helen Donaldson, Bruce Castator, Rick Morris and Jackie Murdoch.
Thank you, Shirlee.
---
Talking about Hooters (where the group above meets) - A Little Humor
Two Air Canada employees grow up together playing golf, but early in their careers one transfers to British Columbia, the other to Nova Scotia. They agree to meet every ten years at the Lionhead Golf & Country Club in Ontario and play golf.
At age 30, they finish their round of golf and go to lunch.
"Where do you wanna go?" "Hooters."
"Why?" "Well, you know, they've got the pretty girls there."
"OK."
---
Ten years later, at age 40, they play.
"Where do you wanna go?" "Hooters.
"Why?" "Well, you know, they've got cold beer, big screen TVs and everybody has a little action on the games."
"OK."
---
Ten years later, at age 50, they play.
"Where do you wanna go?" "Hooters."
"Why?" "The food is pretty good and there is plenty of parking."
"OK."
---
At age 60 they play.
"Where do you wanna go?" "Hooters."
"Why?" "Their wings are half price."
"OK"
---
At age 70 they play.
"Where do you wanna go?" "Hooters."
"Why?" "They have six handicapped spaces right by the door."
"OK."
---
At age 80 they play.
"Where do you wanna go?" "Hooters."
"Why?" "Cause we've never been there before."
---
Tony Walsh has found these two photos among his collection –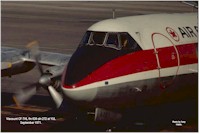 I've taken a lot of conventional airliner photos over the years in my Air Canada airport ops career, but sometimes a simpler photo has more punch when reliving those times on the ramp.
Picture at left is Vickers Viscount CF-THL fin 630 c/n 272 at YUL September 1971.
The shot of AC 630 shows #4 engine about to be started, #3 running, and captain showing 4 fingers out the cockpit side window to the ramp LSA. Back then, perhaps due to its daily familiarity, I sometimes thought the Viscount with its high-pitch turbine scream if heard from the ramp close-up, was a bit of an ugly duckling, but in fact it was as seen in this photo an aerodynamically slick and good looking airliner.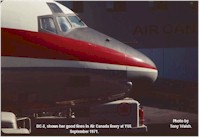 A moody close-up 1971 shot of a DC-8, shows her good lines in Air Canada livery and that great matte-black top-of-nose scheme that showed a bit of moxie.
Tony Walsh – Retired AC – Mgr Airport Ops Srvcs – Western NA & Pac Rim
A late New Years Greeting to you all from Terry, Alan, Wayne and Ken! (as this is our first NetLetter in 2017). We are working on major changes to the ACFamily Network and the NetLetter which will be announced in this space.
All the best for 2017,
Your NetLetter Team