The Flying Seven - B.C.'s famous 'Flying Seven women pilots charted unknown territory back in 1936, when aviation was still in its infancy a group of women flyers got together to form The Flying Seven.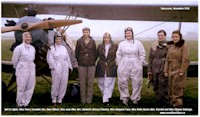 It's a cold misty morning in November 1936. On the tarmac at Vancouver airport sits a motley collection of small aircraft—a couple of Fairchild biplanes, a Golden Eagle, two Fleets, two Gypsy Moths. Standing by them, shivering in the coolness and looking up into the sky, seven women wait. The first faint trace of light appears in the east and someone says, "Well, let's start."It's 6:16 a.m.
Tosca Trasolini snaps on her flying helmet, climbs into the cockpit of the Fairchild, shouts "Contact!" and rolls down the runway and up into the mist.
Canada's first all-woman 'dawn to dusk patrol' has begun.
During World War II the group was instrumental in training women in parachute and aircraft maintenance. They promoted flying among women & helped establish the first aviation training centre for women in Canada.
For the full story, please see the article by clicking here and there is another good article you can read by clicking here.
The Group Portrait has been colourized by Canadian Colour (link below) and is in front of a bi-plane showing (left to right):
Miss Tosca Trasolini, Mrs. Alma Gilbert, Miss Jean Pike, Mrs. Elizabeth (Betsy) Flaherty, Miss Margaret Fane, Miss Rolie Moore (Mrs. Barratt) and Miss Elianne Roberge.
(Used with permission www.canadiancolour.ca)