Air New Zealand "Flight with a Heart"
On 3 September, 2017 Air New Zealand took 50 children with critical medical conditions such as cancer and heart disease, and their caregivers, on the flight of a lifetime over New Zealand. The nearly three hour flight took the aircraft and its passengers on a 440 km long and 483 km wide heart-shaped journey across New Zealand.
Departing Auckland, the Air New Zealand 787-9 headed south, beginning its heart-shaped path west of Taharo. During the flight, MCs Adam and Eve from The Adam and Eve Show entertained the kids on board. Prior to departure the children enjoyed a waiata performed by Te Kura Kaupapa Māori ā-Rohe o Māngere school.
The Flight Radar site at www.flightradar24.com partnered with Air New Zealand to help reveal the flight path on Facebook Live as the flight made its way over New Zealand. The exact flight plan was kept secret to ensure the finished path would be a surprise for the guests on board and for those watching at home.
For full story see: www.flightradar24.com/blog/air-new-zealands-heartfelt-koru-care-flight
Air Lines, Airlines or Airways?
Terry Baker and Ken Pickford of the NetLetter team share a passion for the English language and the use of proper grammar. With all due respect to both gentlemen, I would like mention (with humour intended) that we should keep one important fact in mind. This is English!
The actual origins of the language seem to be a continuing subject of debate but we may say that it has been spread all over the globe and evolved differently depending on the region. Spelling and pronunciation may vary slightly between regions but slang almost creates a new unique language even within a single country.
Today's technology has turned corporation names into verbs (Google it) and acronyms into nouns (RAM, LASER, RADAR, MODEM etc.). However, I think that one of the most fascinating aspects of language is the constant addition of compound words derived from the formation of new industries.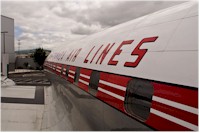 This brings me to the phrase "Air Line" from which the noun "Airline" was derived. In the early days of the industry, "Air Line(s)" would have been used to distinguish this form of transportation from a "Cruise Line" or "Rail(way/road) Line" and referred to the actual routes. Trans-Canada Air Lines and Canadian Pacific Air Lines were named before the word "Airline" became part of the language. Since the addition of "Airways" , the three terms have been interchanged liberally; to the annoyance of many.
"Airline" is defined as "an organization providing a regular public service of air transportation on one or more routes", in one quick Google search. If you have a week or two on your hands with absolutely nothing else to do, I suggest that you do a Google search for "Air Lines, Airlines or Airways" and settle in. Or, check out www.airliners.net for a condensed version of the debate.