Story of Gimli Glider set to take flight on the big screen
(Submitted, written and compiled by: Anthony Walsh)
I was pleased to hear the recent news that Los Angeles based Inkubate Entertainment is commencing the preparatory work for the production of a Big Screen / Big Budget movie about the Gimli Glider event. I'm sure the movie, as did the real event, will eclipse the Miracle on the Hudson in airmanship skills, people factors and extended drama. See link and image below for a short February 14, 2018 CTV News item, about the movie, with amusing quotes and interesting people facts.
My excitement is prompted by being someone who has for the past several years been voluntarily assisting some very dedicated people in Gimli MB (from my distant Delta BC home), namely those who became voluntary principals of the non-profit entity Gimli Glider Museum Inc. (Barb Gluck – President and a many decade GG museum visionary, and Steve Bannister – VP) that created this slick and very-interactive museum called the "Gimli Glider Exhibit". This is a most successful permanent display of this important and world-known bit of Canada's aviation history. The Exhibit had its grand opening on July 23, 2017 (anniversary of the 1983 successful-outcome event) and has been a popular attraction, with general public and airline & aviation heritage-interested visitors from all continents.
The museum's exhibit has many relevant actual parts funded by donations and removed from B-767-233 / Fin 604 at Mojave MHV in its displays, plus a lot of interactive educational & fun elements. The museum also serves as an archival centre for all things related to the Gimli Glider event.
Below the CTV News item are 2 teaser photos of just one section of this very professionally presented Gimli Glider Exhibit that has had rave reviews. I'll update you, in subsequent NetLetter editions, on the evolution of the museum in photos, including the cutting free and saving of a significant portion of 604's tail fin (vertical stabilizer and upper rudder), now at Gimli MB to be dramatically integrated into the museum and about the upcoming July 23, 2018 "35th Anniversary" celebration events at the Gimli glider Exhibit.
Tony Walsh – Retired AC – Mgr. Airport Ops Srvcs – Western NA & Pac Rim / Retired – Contractor for Lektro Inc. – Electric Towbarless Tug manufacturer

Partial Transcript from CTV News Report - February 14, 2018
The story of the 'Gimli Glider' is poised to become a feature film on the silver screen. They managed to land the plane on old runway in Gimli without anyone on board or on the ground being seriously injured. Pearl Dion, 76, was a passenger on the flight and is now Pearson's (the Captain's) partner. They reconnected in Gimli at the landing's 30th anniversary, fell in love and live together near Ottawa. "I thanked him many times for saving my life, saving our lives," said Dion. "It just made for a really good match."
The pair said last February, an American filmmaker approached them about making a movie. "They emailed us an 11-page contract and we only understood one page," said Pearson, laughing. Pearson and Dion have signed a contract and say two script writers have been scouted to work on the project. Both are excited to see the Gimli Glider on the big screen. Los Angeles based Inkubate Entertainment tells CTV News it's an amazing story and it's excited about the movie. "I'm not that handsome. I hope they don't get anyone too handsome. That would be too unrealistic," said Pearson with a laugh. This summer marks the 35th anniversary of the historic landing
---
Photos of one section of the Gimli Glider Museum
(captions provided by Tony Walsh)
You'll note a Ram Air Turbine (RAT) display in the foreground (that was created with the donated assistance of UTAS, the manufacturer of 604's RAT).
Due to it being one of the most visitor asked about aspects at the Exhibit, the RAT display is being enhanced. The display content will be expanded with help from engineer/s involved in the initial B-767/757 joint RAT development programs. We also now have saved 604's original RAT fuselage door thanks to the great effort on a visit to MHV on the GG museum's behalf to help us by photographing and videoing 604's tail fin removal.
Footnote to caption above: One member of the RAT development team said to us "At the time of the 767 & 757 co-development, this RAT turbine was of a novel and new design that had a number of innovative features that made it both more reliable and cost effective. This design approach, the first of its kind, has gone on to be the standard for essentially all modern RAT's since that time including those used on Airbus, Embraer, Bombardier and military transport aircraft. To my knowledge there have been at least 17 verified aircraft "saves" with something around 2600 lives saved due to this piece of safety equipment."
We've also learned that back then, some propulsion engineers were of the opinion that the RAT was not needed and would never be used.
Air Inuit – C-GAIG
My favourite YouTube channel for aviation videos is Dude8472Productions. 'Dude' lives in Calgary, Alberta but travels the country and has a knack for capturing videos of aircraft with interesting histories.
One of his more recent video uploads sent me cyber-diving for more information on a thirty-eight-year-old Boeing 737-200 (Registration C-GAIG) operated by Air Inuit. Click Here or on the image below for the video.
The aircraft was originally delivered to Federal Express in 1979 but was acquired by Saudi Aramco and spent most of its life flying in the Middle East until acquired by Air Inuit in 2007 and continued to serve in what could not be a more different environment. It was once leased by the Liberal Party of Canada for an election campaign when Stéphane Dion was the party leader (Pictured).
It continues to serve as one of three B737-200's, in combi configuration, among the fleet of Air Inuit providing goods and services to remote areas in Nunavik and Nunavut from the airline's main base at Kuujjuaq Airport in northern Quebec.
Air Inuit, as well as Canadian North, continue the distinguished tradition of utilizing aged but well-maintained aircraft to provide for people in remote communities.
References:
The article in NetLetter #1383 under Terry's trivia and travel tips, had a photo of the North Star flight bulletin and asked readers if they had any information regarding the insignia.

Prompted by this request, Jean Downie sent us this information -

In your most recent NetLetter, you requested information regarding the insignia. This insignia was issued to flight attendants in 1965 when Trans-Canada Air Lines became Air Canada.

We were issued with a new dark, bottle green uniform for the occasion which consisted of a two piece suit, a white blouse, a dark green coat, long black leather gloves, black high heels, and of course, a hat!

The badge shown in your photo is the hat badge, it was slightly curved to fit on the brim of the hat; this was the winter uniform. In the summer, we changed into a turquoise jumper and jacket, a white blouse, with a variety of hats (the company kept changing the styles!) One was a round cream coloured straw and the insignia on that was similar, not exactly the same, as the large one and slightly smaller.

In this photo are flight attendants wearing the uniform and in it, you can see the insignia on the left side of the hat brim.

Maybe others can fill in other information that I have missed. The photo was taken, as everyone can see by the hat the policeman is wearing, in LHR.

The flight attendants are left to right are: Katrina Kogel, Jean Downie, and Jacqueline Beauchamp.

I enjoyed reminiscing! Hope that this info is of some help. Thank you! Keep up the good work, Jean Downie ex YYZ base.

---

This from Robert Arnold -

Here is another Viscount item in my collection, a TCA first aid box. I came across it inside CF-THN as I climbed through the aircraft shortly before it was scrapped back in July 1989. I now use it to contain many of the smaller TCA items I've been collecting over the years, which includes the box of TCA brand staples I came across recently and appeared in NetLetter #1384.
"You will have to pay full fare for that child, lady," said the ticket agent. He is over 12 years"
"How can he be over 12, when I have only been married for 10 years" she asked.
"Lady, I just collect fares, not confessions" replied the ticket agent.
---
From the "CP Air Empress Class News - Special Edition".
Empress Class was first introduced in October 1980. Here is a story - with tongue in cheek!
Once upon a time there was a giant airline called Air Candy that had things pretty well its own sweet way all across the land.
They fed their passengers from plastic plates. There being no need to pamper them because Air Candy could truly boast that they went everywhere.
As there was little choice, the people of the land moaned and groaned every time they had to go away unless they were lucky enough to get a seat on Chic Perk Air, one of the competitive airlines that was forced to fly with clipped wings behind Air Candy.
Chic Perk Air was known for providing the perks that make travelling so enjoyable - like china and silver for gourmet dining and a smile and a friendly hand that make passengers feel so comfy in the skies the likes of which the people had never seen before.
Orange streaks could be seen everywhere, trail blazers in a new era of free wings across the nation. It began with SKYBUS, the country's first bargain-priced flights on a year round basis. Air Candy grimaced, but was too proud to copy. Then came EMPRESS CLASS!
Full treatment for the full fare passenger another first for Chic Perk Air. "It takes a lot more than china cups" the giant harrumphed but alas, it was too late.
Although Air Candy was still the national airline, Chic Perk Air had now become the national airline. Frantically they imitated, offering Connoisseur Service it sounded good, but still no china. Can you imagine dining with plastic?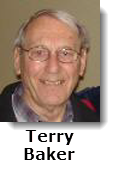 Terry Baker, co-founder of the NetLetter scours the internet for aviation related Trivia and Travel Tips for you, our readers, to peruse.
For the first time in aviation history, in 2017, not a single person died anywhere in the world because of a jet airliner accident.
However, one man died in the crash of a Canadian ATR42 turboprop in December.
The chance of dying in an airline crash now is about 1 in 50 million, according to a recent analysis.
(Source: avweb.com)
---
Jack Morath the Pionair Social Director at LHR sends this information -
Recently Aureen and I went to Glasgow for the Air Canada PIK Reunion there and we hired a car from Glasgow airport which worked out about £10 per day which was very reasonable.
Details as follows: www.rentalcars.com and phone number 03330035609. Open 24 hours a day seven days a week. Worth doing.
---
This Lockheed Aircraft Corporation advert in the Flight magazine issued August 17, 1939 has the title "The Newest, Fastest Transcontinental Airline".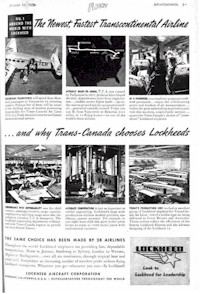 Pictured panels are titled:
"Luxurious transports", "Actually made-to-order" and "As a passenger".
Other pictures under "... and why Trans-Canada chooses Lockheeds" with the statements:
"Performance with dependability", "Accurate construction" and "Today's production line".
The conclusion was "The same choice has been made by 28 airlines".
---

Interline rates from perx.com
7 night Caribbean - Oasis of the Seas - April 29, Port Canaveral to Port Canaveral Balcony from $607
7 night Caribbean - Rhapsody of the Seas - Apr 29, Tampa to Tampa Balcony from $706
7night Caribbean - Caribbean Princess - June 23, Fort Lauderdale to Fort Lauderdale Balcony from $649
8 night Alaska - Celebrity Millennium - May 10, Vancouver to Seward Balcony from $1274
10 night Australia/NZ - Ovation of the Seas - March13, Sydney to Sydney Balcony from $1373
12 night Australia/NZ - Celebrity Solstice - March 30, Sydney to Sydney Balcony from $1498
7 night Bahamas - Adventure of the Seas - May 11 | Cape Liberty to Cape Liberty Balcony from $657
7 night Caribbean - Carnival Fascination March 4, San Juan to San Juan Balcony from $538
7 night Caribbean - Disney Wonder March 4, Port Canaveral to Port Canaveral Balcony from $910
10 night Caribbean - Azamara Quest - March 9, Miami to Miami Oceanview from $1750
7 night Caribbean - Harmony of the Seas April 28, Fort Lauderdale to Fort Lauderdale Interior from $689
7 night Europe - Back to the 80's - May 6, Southampton to Southampton Balcony from $599
12 night Europe - Nautica - May 27, Civitavecchia to Southampton Interior from $1500
11 night Mediterranean - Seven Seas Explorer - April 12, Monte Carlo to Barcelona Balcony from $3300
12 night Mediterranean - Sirena - July 18, Barcelona to Civitavecchia Oceanview from $1800
Information and reservations:
All cruise rates listed are per person ($USD).
For cruises, government taxes & fees are additional.
PERX.com brought to you by Interline Vacations
12708 Riata Vista Circle, Suite A-125, Austin, TX 78727
Tel: 512-691-4500 1-800-737-9266