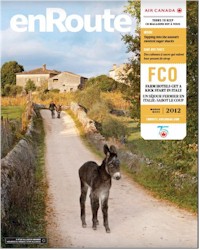 Here is the cover of the enRoute magazine issued March 2012.
The family-owned Tenuta di Spannocchia estate, shot by Danilo Scarpati in the Tuscan hills, hasn't changed much in donkey's years.
---

Extracted from "Horizons" magazine..
Issue dated March 1984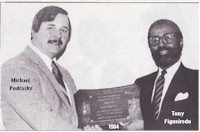 Michael Podrasky, Sales Representative Chicago, and Brian Reid, Customer Service Agent, Houston are obviously in the right field.
At a recent Sales Effectiveness Training Course held in Chicago and Houston, their respective sales presentations were chosen as winners by the students at the seminars.
Michael is shown, left in the photo, receiving his "Air Canada Professionals Persuasive Selling Award" from Tony Figueiredo, Passenger Sales Manager, Chicago.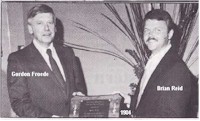 In the next photo, Brian Reid, right, receives his award from Gordon Froede, General Manager, Central U.S.
---
A bilateral agreement between Canada and Yugoslavia was initialled in Ottawa on March 1, 1984.
---
JAT (Jugoslovenski Aerotransport) has been granted access to Lester B. Pearson airport in Toronto. Air Canada does not intend to operate the route in the foreseeable future, but supports JAT's entry.
---
Issue dated April 1984
Boeing 767's arrive.
The company's seventh Boeing 767, C-GAUU, Fin #607, arrived at Dorval on April 12, 1984. The eighth aircraft, C-GAUW, Fin #608, arrived on April 19, 1984.
---
Issue dated May 1984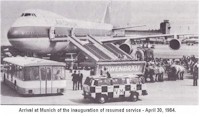 Landing at Munich on April 30, 1984, passengers aboard the inaugural flight were greeted by a Bavarian brass band and a horse-drawn beer wagon.
The aircraft was originally scheduled to be a Lockheed 1011 but was replaced by a Boeing 747 under the command of Captain Ron Dennis, Flight Operations Director, Toronto.
The flight marked the reintroduction of Air Canada service to Munich. Air Canada previously served the Bavarian city from June, 1974 to April, 1976.
---
Nordair offer considered.
Innocan Inc.., of Montreal, announced it has made an offer to Air Canada for the purchase of all of the national carrier's shares of Nordair Ltd., the Montreal-based regional carrier.
---
Glasgow hosts lively launch.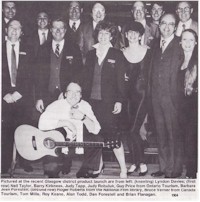 The Glasgow district took its 1984 product launch on the road.
Manager Alan Todd and his team, consisting of Sales Representatives Roy Keane and Neil Taylor and Reservations and Sales Office Supervisor Brian Flanagan, delivered the sales message to the guests, who were also addressed by representatives of
Tourism Canada and the Government of Ontario.
Pictured at the recent Glasgow district product launch are from left: (kneeling) Lyndon Davies; (first row) Neil Taylor, Barry Kirkness, Judy Tapp, Judy Robuluk and Guy Price; from Ontario Tourism, Barbara Jean Forestell; (second row) Roger Roberts from the National Film Library, Bruce Verner from Canada Tourism, Tom Mills, Roy Keane, Alan Todd, Dan Forestell and Brian Flanagan.
---
Issue dated April 2006. (Used with permission)
Upcoming new routes being introduced during 2006.
April 8: Toronto – Fort McMurray
May 1: Edmonton – Los Angeles *
June 8: Toronto – Salt Lake City *
June 16: Toronto – Abbotsford
June 16: Montreal – Denver
June 17: Toronto – Shanghai
June 17: Montreal – Mexico City
July. 1: Toronto – San Diego
July 3: Edmonton – Yellowknife *
July 4: Calgary – Yellowknife *
August 1: Edmonton – Victoria *
August 1: Calgary – Comox *
August 1: Edmonton – Kelowna *
August 1: Winnipeg – London, ON *
* Operated by Air Canada Jazz
---
Issue dated July 1984.
Inaugural meeting of the Women's Auxiliary of the Air Canada Pionairs, Victoria Chapter took place at the home of Kath Lockhart in the late spring of 1984.
A total of 14 enthusiastic founding members turned out. The elected officers of the chapter were:
Mary Held, Chairman; Florence Gervais, Vice-Chairman; Bernice Wier, Secretary; Dorothy Buss, Treasurer and Membership; Alison Brown, Dining-out Convener; Mary Held, Gourmet Group; Reita Wilson, Theatre Convener and Louise Williams, Social, Bridge and Canasta.
It was agreed that Rattenbury's Restaurant, housed in the Crystal Gardens, would be the dining out choice for June and Milloss Greek Restaurant and Lounge for July.
---
Issue dated October 2010 (Used with permission)
The Tariff team based in Montreal participated in a team building activity at the Arbraska Park in Rigaud, Quebec: zip-lining in a nature path on suspended bridges!
Going beyond the team's daily routines, it tested limits, stimulated the senses and created an incomparable connection to nature at a height of 20 meters! This innovative and exciting activity encouraged teamwork and the mastery of self, the fear of heights and balance, concentration and exceeding one's limits in complete safety! This exercise promoted a sense of connection, camaraderie and euphoria. Nothing says teamwork like rescuing your colleague stuck in a tree!
Pictured here (left to right) are: Sabrina Dessi, Chantal Ward, Maura Di Blasio, Manuella Meilchen, Germain Cordero, Nancy Lavoie, Phillipe Meilleur, Marie-Christine Greer, Luigi Gambino, Christine Owers and Jenny Acheson.
Missing from photo: Cathy Coppola, Michelle Dubois and Jessica Doiron.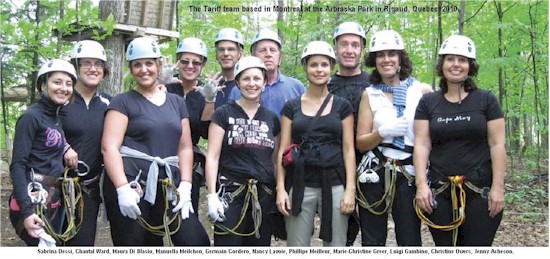 ---
From Parts & Pieces issue March, April, May 1996.
Once again, the Seventh Annual All-Stores Hockey Game held on the first of May 1996 was a great success. While many a creaking of bones could be heard over the sound of the cheering crowd, our boys are in pretty good shape. The game was a total of two hours and a short breather at half time to clean the ice and get some liquid refreshment.
Here is a photo of the crowd: -
Listed from left to right, front first are: Vic Hebert, Gino Garanji Paul Murphy, Graham Blom, Kevin Shephard, Art Richard, Ben Besner, Stan Sumsion, Frank Kelly, J.D. Gauthier and Steve Wells.
Second row: Barry MacAulay, Warren Dahlgren, Francois Lussier, Denis Hebert, John Glass, Eddie Waddell, Don St. Laurent, Mike Delaney, Dean Allison, Gary Kirbyson, Peter Dorion, Matt MacAllister, Denis Leduc, Bob Galazzo, Ray Rouleau, Gordon Speirs, Sean Melia and one-man noise maker and cheering coordinator, Leon Kolibaiev.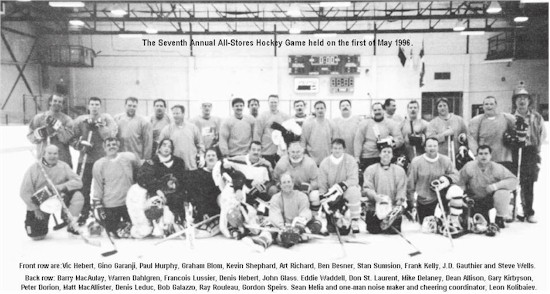 ---
Mike Viera sends this information-
Our Facebook page is centered around Air Canada GSE in YUL and the people who work (worked) there. Here we have these photos from the Air Canada Ground Support Equipment at Dorval.
Taken in August 2018. Kneeling left to right: Luigi Di Pasquale, Denis Dallaire, Marc Rouette, Mike Vieira, Julio Toro and Shant Djerrahian.
Standing left to right: Chris Salvati, Scott Preston, Brent McMeekin, Lloyd McArthur, Francis Cousineau, Claude Desgagnes, Pierre Landry, Guy Ouellet, Peter Ehret, Tony Fiore, Remo Pace, Daniel Beriault, Benoit Carbonneau, Jeremy Turenne-Torres, Emile Bruyère, Christian Dattore, Donato Iadinardi, Markku Kivinen and Kevin Cordwin.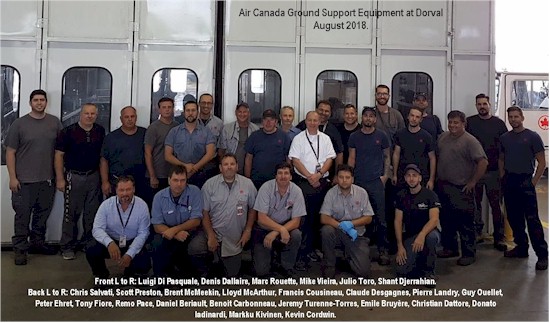 Taken December 2013 for retirement of Orlando Braga (center of photo).
Kneeling: Eric Vanlerberghe, Left to right: Denis Dallaire, Brent McMeekin, Chris Robinson, Stan Cipriani, Mike Burke(rear), George Nicol, Isaac Braga, Benoit Carbonneau (stairs), Larry Fisher, Orlando Braga, Robert St-pierre, John Zambon, Marc Rouette, Claude Comeau, Julio Toro (rear), Gilles Grimard, Michel Dattore, Yves Dupuis, Jean-Luc Bellemare, Denis Latour and Eddy Reilley.
(Source: facebook.com/aircanadagse)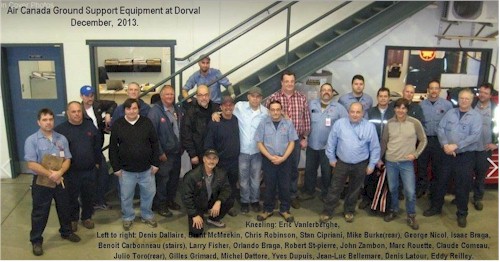 Air Canada Increases Frequency to Popular Destinations in 2019.
Air Canada announced four new changes to their YVR network of weekly flights. Beginning in 2019, increased service to India, Australia, Switzerland, and Japan will allow for more non-stop opportunities to fly from Vancouver around the globe.
Source: YVR.CA