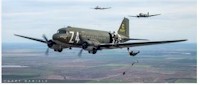 As if it wasn't enough to be planning to fly a fleet of vintage C-47's above Normandy in June 2019, to commemorate the 75th anniversary of D-Day, the project also includes about 300 parachute jumpers from a variety of historic-recreation groups who aim to honour the veterans of WWII.
The jumpers aim to faithfully re-create the historical aspects of their gear and equipment, subject to safety and operational limitations, and certain other liberties are also allowed.
The Europe flight departs in May, from Connecticut. The organizers expect to fly about 15 jump sorties in Normandy and Berlin.
(Source: avweb.com - October 25, 2018)
---
Another aircraft restaurant.
Farmer Builds Full-Size A320 Replica.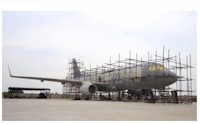 When Chinese garlic farmer Zhu Yue had to admit to himself that he would never achieve his lifelong dream of learning to fly, he did what he considered to be the next best thing. The ambitious and apparently prosperous agriculturalist and welder built a full-scale steel model of an A320 in his hometown of Kaiyun. "I hit midlife and realized I couldn't buy one, but l could build one," he said.
It's not clear what type of aircraft Zhu thought he might want to buy but the $374.000 he spent on the enormous model of Airbus's bread and butter airliner should have given him a lot of options. Nevertheless, he forged ahead with the complex project, using an 80th-scale model and photos to guide him.
The result is a somewhat faithful replica that weighs more than 130,000 pounds. Zhu plans to use the replica as a restaurant where diners will be seated in 36 first class seats. "We will put down a red carpet so every person who comes to eat will feel like a head of state," Zhu said.
(Source: avweb.com - October 28, 2018)
---
Bombardier plans to sell the Q400 regional turboprop program to Longview Aviation Capital, parent company of Canada's Viking Air, which previously acquired the rights to out-of-production de Havilland Canada types.
(Source: ATW Daily News - November 8, 2018)
---
This airline sure is accident prone!
A Lion Air Boeing 737-900ER was damaged when the aircraft's wing struck a pole while taxiing to the runway at Bengkulu Fatmawati Airport, on the evening of November 7, 2018. Flight JT 633, bound for Jakarta Soekarno Hatta Airport, was carrying 143 passengers when the left wing came into contact with a pole at around 6:20 p.m. local time, resulting in a visible tear on the wing's leading edge near the winglets.
No one was injured, and passengers were transferred to another Lion Air flight to Jakarta four hours later. The eight-year old 737-900ER, registered as PK-LGY, and the two pilots were grounded following the incident. The Indonesia Ministry of Transport said it would investigate the cause of the incident and take follow-up measures.
(Source: ATW Daily News - November 8, 2018)