Boeing 767 - Last Flight of a Legend
The last flight of Air Canada's Boeing 767 may not be a significant story considering current world events, but it should not be just a footnote in history.
Registration C-FTCA (Fin # 638) made the final passenger flight, Rapidair AC439 YUL-YYZ, on June 2 and then the lonely trip to Marana, Arizona (MZJ) on June 5.
Fin # 638 was originally delivered to Canadian Airlines in April 1989 and retired with 31.2 years of service.
I am sure that our readers must have numerous B-767 stories to tell. Hopefully, some of them will be willing to share their stories with us.
For myself, I loved everything about these aircraft both as a passenger and my various positions in material supply.
My first 'flight deck' ride was from YYZ to YYC in August 1994. I was coming off working a night shift and was trying to get to YVR. The direct flight was jammed but the passenger agent said that I could get on the flight to Calgary at the next gate.
It was quite a shock when I entered the aircraft and the flight attendant opened the flight deck door and said, "there's your seat". I did not have time to adjust to that surprise when I glanced at the aircraft ID plate and saw '604', the Gimli Glider. That woke me up! It was a nice smooth flight and the captain loved having someone to chat with. I had a great time.
As a stock keeper picking up AOG (Aircraft on Ground) parts for maintenance, the B-767 was the best aircraft to meet due to the bulk cargo compartment on the port side. I could park my truck well clear of most of the activity unloading the aircraft.
Near the end of my career, as a Material Logistics Coordinator and Expediter, the B-767 fleet was quite a challenge for identifying parts. Not only did we have the combined fleet of Air Canada and Canadian Airlines configurations to deal with, but several more aircraft were acquired from various lessors and had unique configurations.
(Editor's note from Ken Pickford: Canadian Airlines assigned registrations ending with "CA" when they took delivery of Fins 637 to 642 between 1989 and 1991.
I expect many people who saw that C-FTCA registration on an AC aircraft thought it had some connection to AC's original name, but in fact it was just a coincidence)

Ken also found a video of both C-FTCA (Fin 638) and C-GLCA (Fin 641) departing YYZ at 11:54 and 12:39 on June 5 (C-FTCA first) to Marana, Arizona.
C-GLCA is 2 years younger, age 29, delivered to CP May 4, 1991 (361st 767 built), vs. age 31 for C-FTCA, delivered April 25, 1989 (259th 767 built).
Video by Ernest Gutschik Aviation and posted here with thanks.
Planespotters.net - listing of all B-767's formerly operated by Air Canada / Canadian Airlines.
Additional references:
Flight Aware - C-FTCA - final flights
Vancouver videographer, eye trapper, has posted an excellent tribute to the B-767 below.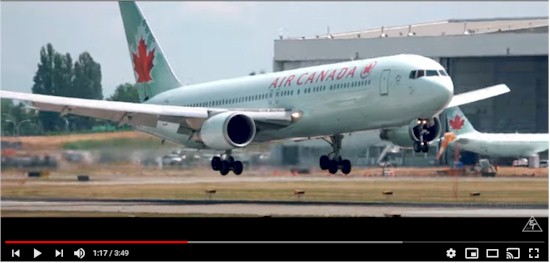 Air Canada employees take pride in their work and it is important that they have the opportunity to share this pride with those who are most important to them.
For this reason, in 2013 Air Canada inaugurated Family Day celebrations at its major hubs.
These special days were set aside to allow employees to bring their families to decorated hangars where they could play games, tour an aircraft and enjoy popcorn, cotton candy and other free food and drinks, all in a carnival atmosphere.
The Family Day events in Toronto, Vancouver and Montreal lived up to the expectations.
In total, the three Family Day events were attended by approximately 5,100 people and raised just over $16,000 for the Air Canada Foundation.
(Source:Citizens of the World 2013 edition)
---

Found in the "Horizons" magazine.
Issue dated July 1990
Glasgow welcomes international flights.
Back in March 1990, a British government review of its Scottish Lowlands Airports policy led to an open skies policy for Scotland, with transatlantic flights no longer restricted to Prestwick Airport.
As a result, Air Canada decided to move its passenger operations to Glasgow Airport, which is more conveniently located to Scotland's largest city of Glasgow.
We commenced operations from Glasgow on May 16, 1990 with scheduled services to both Halifax and Toronto and twice weekly charter flights between Glasgow and Toronto.
However, not all connections with Prestwick were being severed. Our weekly freighter service continued to use Prestwick, which had excellent cargo facilities. In fact, Prestwick, which was preferred by many in the air freight industry was aiming to establish itself as a major cargo hub. Bob Flanagan, Cargo Sales and Service Manager, five Cargo Agents and one Cargo Service Coordinator remained in Prestwick to handle the freighter and other cargo contracts.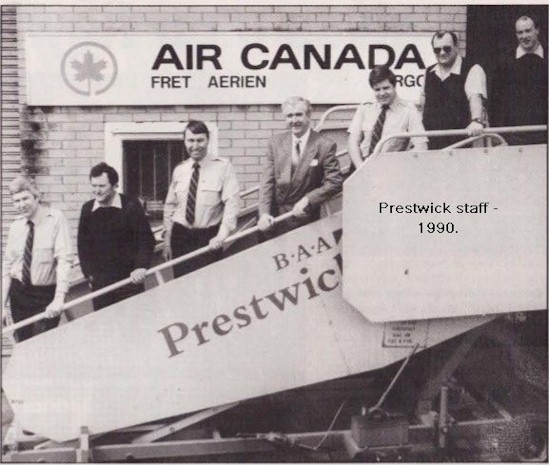 Remaining at Prestwick to handle our cargo operation are (left to right):
Jim McCall, Cargo Service Coordinator; Angus Mackay, Cargo Agent; Ian Dawson, Lead Cargo Agent; Bob Flanagan, Cargo Sales and Service Manager and Cargo Agents Colin Kennedy, Wilson Wight and Tom Hay.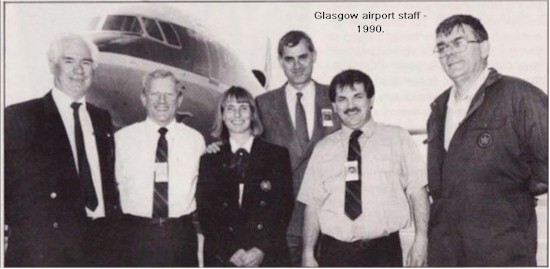 Our employees at Glasgow Airport include (left to right):
Tom Callaghan, Certificated Aircraft Technician in charge; David Auld, Station Agent; Sheena Ramsey, Customer Sales and Service Agent; Roddy McPhee, Airport Services Manager;
William Kerr, Commissary Agent and Jim Kennedy, Certificated Aircraft Technician.
---
Toronto paint division gives us a flawless image.
Since opening in April 1989, the Toronto paint division has been contributing to Customer Care in a very visible way.
The idea of a centralized painting facility for Air Canada's fleet had been on the drawing board for a number of years.
All painting had been done at Winnipeg or Dorval, while an aircraft was undergoing its C or D check. But as demand increased, the decision was made to establish a specialized paint facility.
Toronto was chosen, as more than half of our red tails pass through the hub at some point in their schedule. Danny Lortie and Frank Christofaro, both from Dorval were instrumental in setting up the operation and for training newly-hired staff.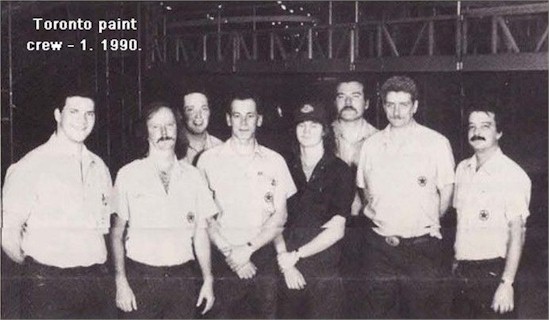 The Paint Division's crew 1 includes (left to right):
Neil Martin, Paul Brennan, Eddie Ruttan, Gilles Cournoyer, Ted Eres, Gord Rendez, Barry Parsons and Michel Filion.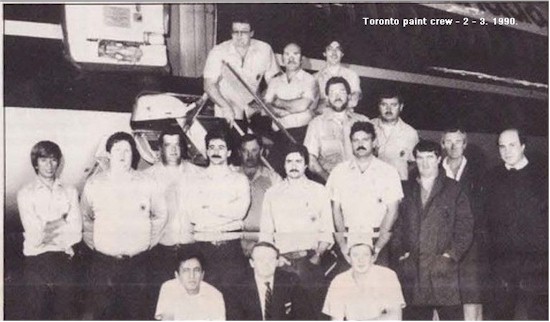 Members of crews 2 and 3 are, back row (left to right):
Rick Farrell, Mike Hibbs, Al Partridge, Ray Perkin, Danny Shea and Bob Wilson.
In the middle row are (same order):
Danny Lacuna, John McGill, Bob Watkins, Pierre Grandmaison, Garry Page, Peter Lerino, Chris Barnfield, Dieter Simon and Frank Christofaro.
Kneeling in front are: Ayoub Motala, Dennis Chislett and Terry Antonishka.
---
Prepare for WARR
On October 5, 1990 an anticipated 2,500 runners representing more than 60 worldwide airlines will compete for individual and team awards in Fort Worth, Texas at the ninth annual World Airline Road Race.
There will be 10-K and 5-K events and every runner counts in the scoring, with each carrier's handicap based on distance travelled and its number of participants.
American Airlines, the host carrier for this year's event has organized a variety of get-togethers including the famous T-shirt swap party and an awards dinner and dance at Billy Bob's - the world's largest honky-tonk bar.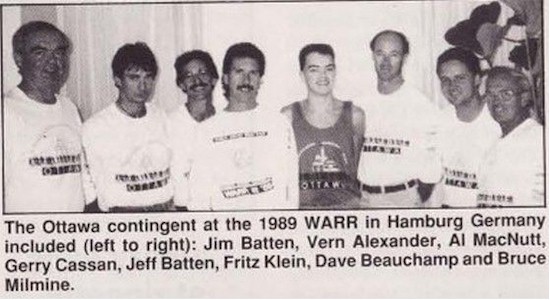 ---
Issue dated September 1990.
A record number of close to 900 Pionairs gathered in San Francisco for their 13th Annual General Meeting.
The Pionairs executive for 1990 were:
President Leo Mclntyre, Immediate past President Mike Lewicki, First Vice president George Daman, Second Vice President Bob Blanchette, Treasurer Fraser Muir, Secretary Helen Gunton, Pension Representative George Clifford and Air Canada Liaison, D'Arcy Little.
---
Issue dated November 1990.
The "Comms Centre" in the Queens Building at London's Heathrow Airport (LHR) closed its doors. while the new switchboard facility in Services Building 681 became operative.
The "Comms Centre" was not the only retirement that day. The same evening, a farewell party was held for a number of London airport employees.
The group of retirees. all smiles for our photographer included (left to right):
Dorothy DeLacy, Passenger Agent; Barbara Edwards, Sub Operator; Joan Sceeney, Teletypist; Mike Berry, Manager; Industrial Relations; Pam Tilley, Teletypist; Terry Scott, Flight Dispatcher; Daphne Parson, Edlie Ethcridge and Anne Bendall, Teletypists; Jeanette Brennan, Sub Operator; Ros Person, Teletypist; Betty Scott and John Baker, Flight Dispatch Manager.

---
Smiles from Dusseldorf
Meet our two Passenger Service Agents in Dusseldorf during 1990: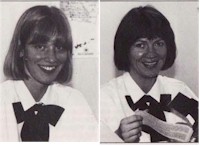 Sabine Rosellen (left) and Brigitte Hansel, who work in our downtown office and out at the airport on days when there's an Air Canada flight.
---

Issue dated July 2015. (used with permission)
Members of the Air Canada Australian Commercial Team celebrate with a Queensland-style menu of tropical fruits, cheeses, Pavlova and exotic juices.
From left to right: Neil Ford, Sales Executive; Cynthia Lee-Bray, Personal Assistant to GM Australia and NZ; Zohreh Sanayei, Inside Sales Coordinator; Florence George, Finance Assistant; Fei Revel, Revenue and Sales Optimization Coordinator and David McNabb, Marketing Communications and Online Sales Manager.