Alexandrina Denysenko, a senior flight attendant with seven years of experience, says she sometimes does not get a spare minute to sit down during a flight and dreams of resting her swollen legs after spending hours wearing heels.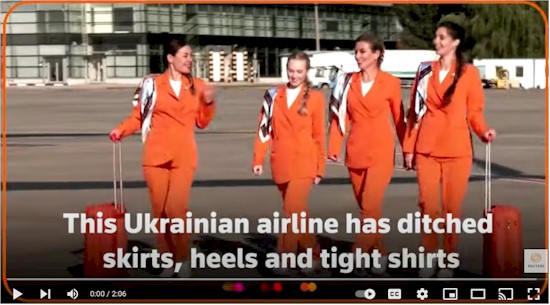 SkyUp Airlines, the privately-owned Ukrainian carrier that employs Denysenko, decided to put an end to heels and pencil skirts after collecting feedback from flight attendants about their uniform.
The new SkyUp uniform for women now includes white Nike sneakers and a loose orange suit with trousers and a silk scarf, both made by Ukrainian brands. White T-shirts will replace blouses.
"Shoes (with) heels look beautiful, I do not argue with that, but feet suffer and swell by the end of the flight. Sneakers are absolutely cool," Denysenko told Reuters.
"God forbid, but if a crew has to do a landing in water and an evacuation. Heels can damage the ladder and it won't be very comfortable to swim in a skirt," she said.
The company said they researched the history of cabin crew uniforms and decided to ditch what they called "conservative" elements of a flight attendant's look. Braids will now replace a tight bun or ponytail hairstyle.
"We found out that despite the fact that the image of a female flight attendant is very romanticized, their job demands a lot of physical training," the head of the SkyUp Airlines marketing department, Marianna Grygorash, said.
Grygorash said the company also plans to launch a new uniform for male crew. It will have a light suit instead of a vest, and a T-shirt instead of a collared shirt, combined with black Nike sneakers.
"If the whole world and all fashionistas wear sneakers, why not to bring it to aviation?" flight attendant Zoryana said.
Source: CNN Travel
The Air Canada Pionairs British Columbia districts Christmas Luncheons.
Vancouver Island District
Location: Tapestry at Victoria Harbour, 777 Belleville St.
Date: Wednesday, December 8, 2021, 1:00 PM
Cost: $20.00 per person payable by November 26, 2021
Don Ross, our Victoria event planner, has visited the dining facilities and was very impressed with the atmosphere and quality of the food.
The chef will be preparing a special meal for our event. There is a limit of 30 attendees.
All Pionairs Members are cordially invited, including those visiting our beautiful islands from other districts.
If you are not a Pionairs member and would like to join, go to our website at pionairs.ca and click on the 'Join Pionairs' button at the top of the page.
Retired employees of Air Canada, Canadian Airlines and all the legacy carriers such as CP Air, Wardair, Pacific Western Airlines, etc. are eligible to join, regardless of years of service.
Grant Snider, District Director
Vancouver Island & Gulf Islands
This email address is being protected from spambots. You need JavaScript enabled to view it.
---
Okanagan District
Where: Kelowna Golf & County Club, 1297 Glenmore Drive
When: Thursday December 9, 2021 11:00-12:00 meet and greet & lunch at 12:00
Cost:$30.00 per person including taxes & gratuites.
Plated lunch menu:
Classic Caesar salad
Tender roasted turkey, pan gravy, house made stuffing, whipped potatoes and vegetable de jour
Dessert surprise
Kent Gregoire, District Director
Okanagan (Kelowna)
This email address is being protected from spambots. You need JavaScript enabled to view it.
Additional information regarding COVID-19 measures.
The member airlines of Star Alliance are working together to assure your well-being during your travels. Intensified hygiene and personal safety measures have been implemented to protect passengers and employees in the current situation.
As updates are taking place regularly, please refer to the individual member airlines' COVID-19 pages for the latest information.
Go to:
www.staralliance.com/en/member-updates and click on the Star Alliance member airline icon to be taken to their information page.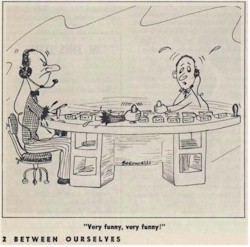 A memory by Terry Baker –
This issue's 'Smileys' cartoon (left) reminds me of the time I was seconded to a small airline in the Caribbean in the early 1970's.
Their reservations were handled the same way as depicted in the cartoon - before being online. Naturally, when an agent selected a card from the appropriate slot for completion and, by the time it came to replace the completed card, the turntable had been moved by another agent, and the card invariably went into the incorrect slot.
When I worked for KLM in the late '40's in London, the reservations had a huge wooden structure with pigeon holes representing flights and filled with cards equal to the aircraft's seats. The structure was situated between two rows of agents who could turn around and select the card from the appropriate slot and return it after completion. At day's end, the passenger lists for each of the following day's flights were sent to LHR by telex, and the empty slots were reassigned and filled with more cards.
---
In 2002, Ed Hill sent us this memory regarding the North Star aircraft which we first published in NetLetter #666 -
It is great to read all about this marvellous airplane from my fellow employees and all of the memories that go along with it, however, let me share with you folks something that maybe 5 or 6 people are aware of.
When I was working as a 16 year old in Airways Engineering, my desk was just a few feet away from the office of one of the most loveable persons I have had the privilege of knowing. That person is no other than Captain Ron Baker who was TCA's engineering test pilot.
Every time Captain Baker went on a test flight he always took me with him. Now this is what most people don't realize; TCA was probably the first airline in North America to be testing automatic throttle combined with auto instrument landing system.
On this particular flight the weather was no better than a 100 foot ceiling and he demonstrated how this system would work to everyone's advantage. So the bottom line I'm trying to make is that the old North Star was involved in a lot more than just making fond memories for some people.
Best regards,
Ed Hill, retired.