Pratt & Whitney Canada Developing Hybrid Electric Power.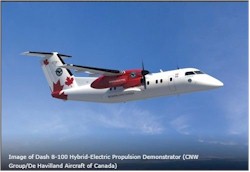 Pratt & Whitney Canada will partner with De Havilland Canada to develop a hybrid-electric propulsion system for regional airliners. The government of Canada has invested about $130 million USD in the project, which will involve De Havilland modifying a legacy Dash-8-100 turboprop regional airliner for the hybrid system.
A turbine engine will be mounted in the fuselage to generate power for electric motors on modified nacelles on the wings. P&WC says the system should use about 30 percent less fuel with a corresponding drop in carbon emissions. The aircraft will be ready for ground testing in the next year and should fly in 2024.
Source:
www.avweb.com/aviation-news