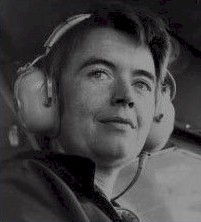 Lorna Vivian deBlicquy, first Canadian female civil aviation inspector.
Designed by Suzanne Wiltshire, the stamp shows Lorna Bray's childhood interest in airplanes, and her later acting upon that early interest as a teenager.
The stamp was introduced on October 19, 2011, the 65th anniversary of the date Lorna first experienced the exhilaration of flying. At age 14 Lorna was strongly committed to learning to fly. With her parachute jump with the Ottawa Parachute Club in 1947, the 15-year-old teen became the youngest Canadian to skydive.
When Lorna earned her private pilot license on September 14, 1948 at age 16, there were few career opportunities for female pilots.
Completing her Commercial License in 1952 and a BA in 1953, her first career was high school teaching. A flight instructor in her spare time, she confirmed her passion for flying and soon moved to aviation as her full-time career.
For more info on the career of Ms. deBlicquy see:
canadian99s.com/lorna-deblicquy-2
and