From 'Canadian Pacific Airlines' newsletter.
Issue dated May 1964.
Hundreds of people thronged Windsor airport April 28, 1964, when two DC-8's (one to, the other from Mexico) inaugurated the first jet service for the Ontario city.
For the record, crews were: On Flight 581: Captain Jim Black, First Officer Neil Carey, Second Officer Jack Forgie, Purser Fred Sittman, Steward Peter Meijer and stewardesses Monique Cote, Lise St. Gelais and Estelle Prejet.
On Flight 582: Captain Harvey Johnson, First Officer Doug Ireland, Second Officer Tom Gale, Purser Wim Vanstiphout and stewardesses Nina Youngman, Christa Ehlert and Roslyn Pugsley.
Editors' Note: Photo not available.
---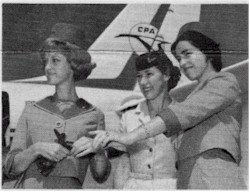 Comparing notes at Vancouver airport were CPA stewardesses Marielle Dauphin, left, and Chantal Geismann, both of Montreal, with Sydney-based Ansett-ANA air hostess Shirley Boles who was in Vancouver helping staff Australian pavilion at the British Columbia International Trade Fair.
---
Issue dated August 1964.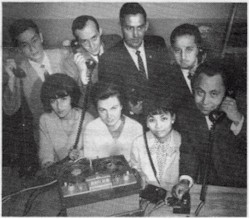 Busy lines were these training telephones at Vancouver training department when this Orient and Latin America group spent a week on a customer service course. This was the second of three groups who received training.
Front row, from left: Becha Jiminez, Lima CTO; Monica Sievers, Santiago CTO; Mrs. Winnie Yue, Hong Kong CTO.
Back row: Yoichiro Kuhara, Tokyo CTO; Francisco Vargas, Mexico CTO; Alfredo Vega, Mexico sales rep.; Salvador Ramos, Mexico CTO-traffic; Melquiades Velasco, Mexico airport.
---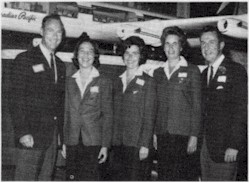 Bright red jackets of CPA women and blue blazers of men stood out at a gathering of the Los Angeles Interline Club.
Representing the company at an event jointly sponsored by CPA and Varig (with South American tickets as prize), were, from left: DSM Grant Williams, Rosemary Zezza, Lilian Payne, Doris Tivald and Paul McWaters.
---
Issue dated November 1963.
Winnipeg terminal opens.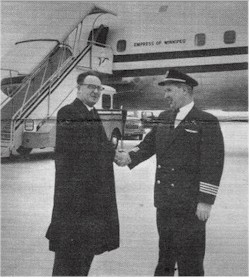 Station manager George Heinmiller and his staff of 10 traffic and maintenance people made an overnight move and were ready for business first thing November 12, 1963 when Winnipeg's new $18 million dollar terminal opened.
Highlight of the building is the vast, airy waiting room on the mezzanine floor above the airline counters, baggage carousels, etc. It has contemporary furnishings and 35,000 feet of illuminated ceiling containing 8,000 fluorescent tubes.
There are roomettes for transient passengers, cocktail lounge, dining room and coffee shop, a nursery, VIP suite and interview room.
One of the first flights. into the new Winnipeg terminal was, appropriately, CPA's Flight #1 by DC-8 'Empress of Winnipeg'.
Captain Jim Forbes was welcomed by Airport Manager J. E. Smyth.
Editor's Note from Ken Pickford: The 1963 terminal mentioned in the above item, expanded in 1984, was closed and later demolished following opening of the current Winnipeg terminal in October 2011.
---
Recognition of 15 years with CPA was given six employees at the second annual service award dinner and dance at Vancouver on November 8, 1963.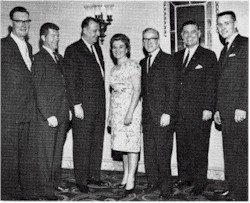 From left to right: Gerry Robertson, maintenance mechanic; Britannia Captain Jack Wells, Executive Vice-President
J. C. Gilmer, who made the presentations, Miss Elsie Muren, maintenance department; Tom Kelly, upholstery shop; Norval Norton, legal department and DC-8 second officer Alf Bicknell.
Some 500 people attended the event.
---
Undated issue from 1965.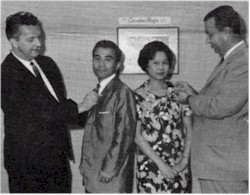 Receiving 10-year service pins were H. Yoshida, chief accountant, Tokyo and Miss June Sato, passenger agent, Tokyo.
Making presentations were Japan sales manager Bob Connor, left, and Far East regional manager Ed Ogden, right.