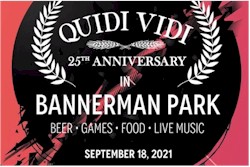 I am now an 'Honorary Newfoundlander' and I have a certificate to prove it!
It won't stop the police giving you a speeding ticket or give you free admission to any of the music venues on George Street in St. John's, but it gave me the funniest 20 minutes I have had in a long, long time.
To the uninitiated, to become an 'Honorary Newfoundlander', one must be 'Screeched In' - a ceremony carried out in a number of bars, mostly once again on George Street in St. John's.
I will not try to describe the ritual in detail, suffice it to say that it involves the passing over of a few Canadian dollars, a shot of Screech (rum by another name), the kissing of a fish, the wearing of a sou'wester and the answering of a number of questions in a 'Long John Silverish' accent.
On my visits to St. John's, I have always steered clear of what seemed and certainly is, a method of lifting a few more dollars from tourist wallets, however on my last visit it was suggested we visit a bar in Quidi Vidi (a long walk or a short cab ride from downtown St. John's).
The bar is called The Inn of Olde and is opposite the Quidi Vidi Brewery (of which more, another time). From the outside the bar is unprepossessing but on the inside it is very singular, every wall and ceiling completely covered in an assortment of spoons, flags, number plates and other assorted bric-a-brac.
On our arrival early in the evening we were greeted by a lady of mature years and matronly proportions, in a wonderful manner which suggested we were regular customers, instead of complete strangers. She was shortly thereafter replaced by Linda the owner. There followed a friendly, lively chat with her and the other six customers in the bar, a circumstance that one thinks should always happen when you visit a new bar, but so very rarely does.
It soon became clear that four of those present, including the writer, had not been 'Screeched In' and that this was not acceptable and had to be remedied immediately. What followed was not a brief, ritualistic ceremony done many times before, but a long, freewheeling and hysterical initiation.
No kissing a fish, but instead a long dead Puffin which Linda swore was 20 years old and kept in the freezer for just such occasions! The wearing of an eclectic range of headgear, the eating of a dried fish, a swig of Screech and the liberal application of a wooden spoon to any unprotected part of your body, if you didn't repeat Linda's words of initiation to her satisfaction, which of course we often did not and through it all much, much laughter...