Ken Starnes has sent us a group of photos of the Aircraft Maintenance Retirement Party held at the Royal St. Lawrence Yacht Club in Dorval in 1983 which appeared in NetLetter nr 1338 and 1339, here are three more.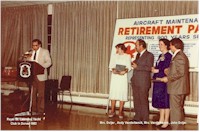 Here we have Mrs. Dolkjar, Andy Vanderbanck (retiree ex Aircraft Maintenance Foreman), Mrs. Vanderbanck, John Doljar.
This is Ron Sinclair (retiree ex-General Appearance Foreman), Mrs.Whittingstall, Mrs. Sinclair, Phil Whittingstall.
This is Ross Watson (retiree ex Paint Shop Foreman) Micheline Poupart, Mrs. Watson, Jim Riddoch
---
Jack Stephens had sent us an e-mail he received from Don Heron regarding Don's father. He had also forwarded us some photos which appeared in NetLetter nr 1339.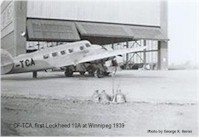 When George Heron moved to Winnipeg, he took these photos. CF-TCA was the first aircraft (a Lockheed 10A Fin# 23) at Winnipeg.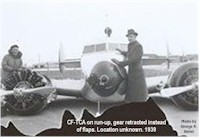 "Oops" this photo is of CF-TCA which, prior to stationary run-up, a mechanic retracted the landing gear instead of the flaps.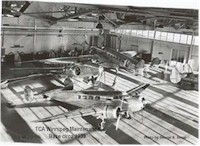 Some of the new fleet inside the YWG hangar circa 1939.
Several photos sent to us included these of the first TCA North Star CF-TEK Fin# 184 at the Canadair factory, Cartierville, Quebec in November 1946.