Ken Starnes has sent us a group of photos of the Aircraft Maintenance Retirement Party held at the Royal St. Lawrence Yacht Club in Dorval in 1983 which appeared in NetLetter nr 1338 and 1339, here are three more.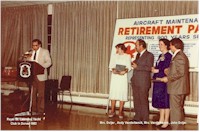 Here we have Mrs. Dolkjar, Andy Vanderbanck (retiree ex Aircraft Maintenance Foreman), Mrs. Vanderbanck, John Doljar.
This is Ron Sinclair (retiree ex-General Appearance Foreman), Mrs.Whittingstall, Mrs. Sinclair, Phil Whittingstall.