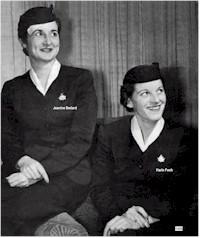 2. Re the story of the parked Viscount struck by the Super Constellation at New York in 1958, it was the two flight attendants who were aboard the aircraft, not the pilots. At least one of the flight attendants had minor injuries incurred while escaping the aircraft. There's a photo somewhere, probably in an old Netletter, from the TCA newsletter, showing one or possibly both of the flight attendants appearing at a media event shortly after the incident, with a bandage or two on one of the flight attendants.
Female curiosity paid off for stewardesses Jeanine Bedard, left, and Karin Foch when then Viscount they were preparing for passengers was rammed on the tarmac at Idlewild Airport, New York, by another aircraft, out of control. The girls, who escaped without injury, received 15 letters of congratulations from 10th grade students of a French school in Montreal. The letters were written as a homework assignment in English.
Click here for the official accident report.
Related excerpts: The second one includes the names of the two "stewardesses" as they were of course known at the time.
One member of the five-man Constellation crew received minor injuries and a Trans-Canada stewardess fell and was injured slightly while running from the aircraft.
After leaving the runway the aircraft crossed a taxi-way and two perimeter strips, and entered a position on the terminal parking area where it collided with a Trans-Canada Air Lines Viscount, CF-TGL. The Viscount was standing at Gate 5 and was to have boarded its passengers for a scheduled departure within a few minutes of the accident.
Stewardesses J. Bedard and K. Foch on board the Viscount, alerted by the cries of persons on the ramp and the noise of the approaching Constellation, departed their aircraft as rapidly as possible. The Constellation crew left their aircraft by jumping from the main cabin door which was approximately four feet above ground level. Fire-fighting personnel had already arrived at the scene and were directing a coverage of foam toward this exit at the time. Both aircraft were virtually destroyed by fire.
Regards, Ken