1981 - January 28 - Service to Grand Forks discontinued.
1987 - April 26th - Date set to present Pacific Western Airlines and Canadian Pacific Air Lines to the public as one unified airline.
---
In the "PWA Flightlines" magazine issue February 1987, we found this photo of the Pacific Western's Charter Department taken during a departmental meeting in Calgary early 1987.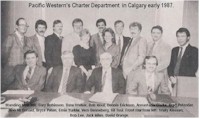 Standing from the left: Gary Robinson (LAS), Dave Walker (YVR), Bob Moul (YYC), Dennis Erickson (YYZ), from YYC are Annastacia Clarke, Brad Potentier, Jann McDonald, Bryce Paton, Ernie Yurkiw, Vern Renneberg and Gil Tsui.
Front row from left: Wally Klessen (YWG), Bob Lee (YVR), Jack Miles (YYC) and David Orange (YYC).
During graduation ceremonies held on January 23rd and February 4th (1987), 29 flight attendants completed their in-flight training and received their wings. Twelve of the graduates from the January 23rd ceremony are pictured here.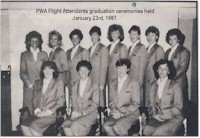 Back row, from the left: Elizabeth Ciesielski, Joanne Clements, Maxine English, Kim Johnston, Rita Redman, Allison Vold, Michelle Comtois and Erin Purdy.
Front row, from left: Liz Swanson, Lynn Yurkewich, Patricia Vanden Berg and Leslie Holloway.
Seventeen of the graduates from the February 4th ceremony are pictured here: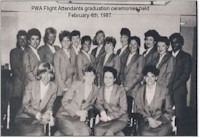 Back row from the left: Sherri Holt, Marla Pistakwa, Susan Scott, Celeste Drummond, Gisele Marcoux, Cindy Gielnik, Trudy Simpson, Tina Beckman, Cory Montgomery, Elaine Franzky, Sandra Hood, Tracy Skeldon and Michelle Kambeltz.
Front row from the left: Lisa Rykman, Linda Trenholm, Laurie Lozinsky and Gina Barry.
---
From the "PWA Speedbird" magazine issue dated October 1980.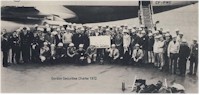 One famous charter operated by PWA was in 1972 when they operated the Gordon Securities Charter. The aircraft was B737 fin # 732 CF-PWE. The crew was Captain Wendel Clark, First Officer Dave Simpson, Flight Engineer Fred Ritz, Flight Attendants were: Jim Bisaillon, Mary Ann Garbencius, Ivy Dunn, Lynn Keefe; Co-ordinator was Ken Wamsley (YXD).
The charter was a four day affair, was on sked throughout and the first jet to land at such a northern location, the Romulus Oil Rig on Ellesmere Island. This was the first PWA charter to ever have in-flight movies about pipelines, Arctic shipping, environmental concerns etc.
The eastern investment group were being shown Canada's northern oil play utilizing western expertise in the best tradition... the PWA staff and aircraft 732.