Len Gauthier sent us this photo -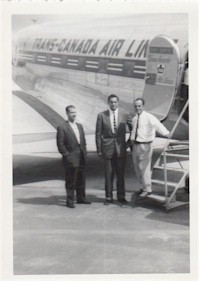 Taken at CYUY (Rouyn-Noranda Airport) in 1957. On the left Mr. Cossette, local Molson Breweries agent, Jean Béliveau (Montreal Canadiens), and Guy Mainguy, station attendant.
Len was the Duty Manager at Rouyn-Noranda during the 1980's, working with Denis Perrier, Joseph Wojtczak and Marion Terlecki as Station Agents. Later they relocated to the cargo departments in Mirabel and Dorval.
Air Canada operated DC-9 service in CYUY until 1987 when it was taken over by Air Alliance Dash 8's. Len was Duty Manager in CYUY until 1983.
---
Frank Pedder has sent us these photos -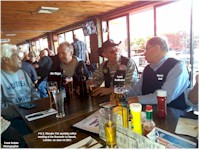 Fun times for Purchasing & Supply, Pionairs YUL District, monthly coffee meeting at the Brasserie Le Manoir, Lachine on June 1st 2017.
From the left: Julian Ireland, Jim Biggs, Leon Kolibaiev and Henry Hall.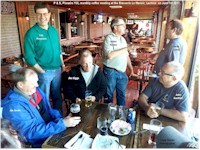 In this photo we have: Jim Devlin, Eric Pousseur, Jim Biggs, Myles Adams, Denis Leduc and John Gauthier.