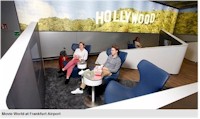 Germany's Frankfurt Airport now offers a selection of movies and gaming activities for waiting passengers in Piers A and Z in Terminal 1. Both are free services.
Frankfurt operator Fraport said "Movie World" enables passengers to sit on "comfortable couches for up to three persons" which are arranged in front of TV screens, just like at home. They are placed in niches for added privacy.
Plus, the floor is covered with carpeting: although this is an unusual sight at an airport, it results in a cozier, more intimate atmosphere." The films are played on demand. The two Movie World areas in Terminal 1 can accommodate 22 persons in eight separate TV niches.
(Source: atwonline)