In NetLetter #1402, under Odds and Ends we had an article regarding the Royal Aviation Museum of Western Canada, Winnipeg moving to a new location.
We received information from Robert Arnold who has been heavily involved, over the years, with the refurbishing of the former Air Canada Vickers Viscount CF-THS.
On October 23, 2018, CF-THS was moved from its long-time home located at the Royal Aviation Museum of Western Canada for its final time. The Viscount will be stored outside in a secure area while a whole new purpose-built museum complex will soon be constructed on property located nearer to Winnipeg's main terminal area. Once complete, the Viscount will be the museum's star attraction.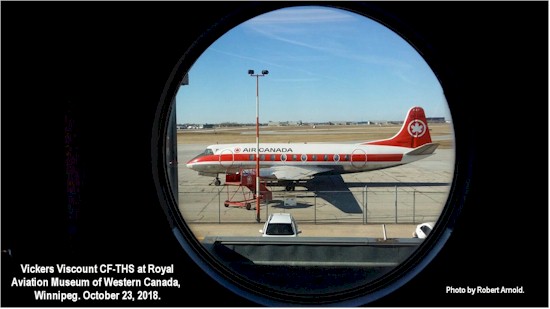 Our Viscount has now been relocated, unfortunately to an outside storage site near the old Air Canada facility on the west side of the airfield. If there is anything positive from this, it's in a safe and secure area. The sad thing is, I wasn't able to get it properly prepared for winter and long term storage, mostly due to several last minute public events that were planned for the Viscount, which prevented me from covering anything up in advance, and with it now being on the air side, a whole pile of other issues come into play as I try and get near it. Looks like I won't get anything done to it this year, as the cold weather and snow has now set in for the winter.
The upside is, I was able to get hold of a temporary ramp pass, preserve some history, and grab some great shots of her outside on the tarmac while it sat next to the museum. I included a few of these pics. The following day we towed it over to where it will be stored. Being part of the move, I took a few rare pics, some from one of the oval passenger windows showing the dart engines, as I doubt anyone these days will have the rare opportunity to take pictures from a Viscount window while taxiing, by tug, across the airport property. These pics were totally void of any museum structure or barriers. For the balance of the trip across the field, I sat in the left seat and got a few rare pics from the cockpit window, again another rare opportunity not to pass over. I also tried taking a few pictures with no date references to be seen to give the illusion the aircraft was still in service.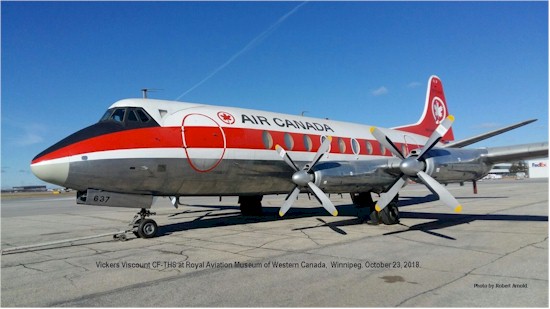 Up until this event, there hasn't been much doing other than help slowly pack up the museum. I did notice that once the Viscount was outside, no one had thought of locking the controls so I had to go and locate an air stair and push it out to the aircraft, reopen the door and lock the controls. All is okay now.
The new museum complex will have a fully modern and diverse aircraft display area that will capture and display Canada's aviation history and technology at its best along with a fully modern and temperature controlled archives department.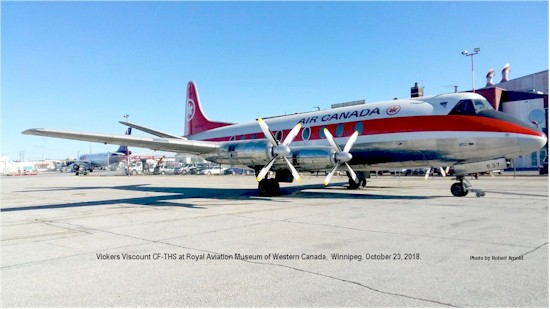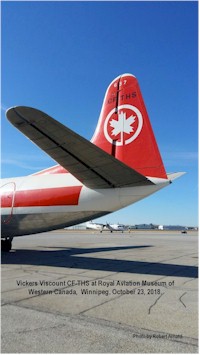 The new facility will also provide a far better view of any aircraft movements around the airport for the public to enjoy. The old museum complex will soon be demolished, and new buildings will be constructed and later will be occupied by a private aviation company. All this will bode well with the modernization and future of the Winnipeg Airport facility.
On a side note, I was able to secure one of the big old double pedestal TCA oak desks. I have since refinished it back to its original golden oak finish and I now use it on a daily basis..
Actually it was Tony Morien's old desk, which he used during his time in the restoration shop. It also had one of the old original metal TCA inventory tags still attached. The desk is now back together and looks quite nice in my apartment. I'm using it at this moment as I send this email. It sure is nice to have plenty of drawer space, 6 of them to be exact.
Robert Arnold.