An American Pioneer of Soaring Flight: John J. Montgomery.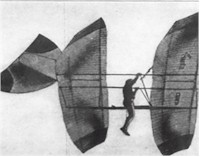 Among the pioneers of aeronautics who contributed their share to the realization of powered flight there is one name which has nearly fallen into oblivion, that of Professor John J. Montgomery of Santa Clara College, California whose investigations into the science of soaring flight and inherent stability deserve that his name be placed in the Annals of Aviation along with Lilienthal, Pilcher, Chanute and Ferber.
Attention has just been called to Montgomery's early work through an investigation made by Assistant Attorney General Huston Thompson and W. D. Eakin, who will defend the Government against the suit recently filed in the United States Court of Claims by the heirs of the last Montgomery.